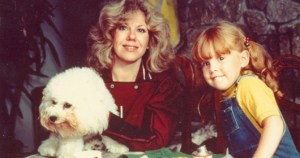 The 29-year-old novelist Molly Jong-Fast completely, entirely, totally adores the Upper East Side.
Ms. Jong-Fast, the only child of Erica Jong, who wrote the sexed-up 1973 feminist gem Fear of Flying, paid $4.95 million last month, city records show, for a four-bedroom co-op.
"Part of me feels that what I like about it is everyone here is a banker," said Ms. Jong-Fast, who's working on a novel, The Social Climber's Handbook. "I feel like I don't have to compete—what I do is so different, it's not even comparable. I'd feel really bad if everyday I went to a coffee shop in Brooklyn and there were, like, five people on the New York Times best-seller list."
She and her husband, CUNY professor Matthew Greenfield, a Shakespeare and Spenser expert, bought the apartment from David and Dana Luttway. (Ms. Luttway also has a famous New York mother, Congresswoman Nita Lowey.)
Ms. Jong-Fast grew up at One Gracie Square, with her mother and a boyfriend named Chip. "I don't know what that co-op board was thinking. … He was a WASP from Darien who became a sort of wild crazy drug-addictive lunatic." Then they moved to a hot-pink townhouse.: "A boyfriend of my mother's said it looked like a bordello. It looked just awful, so hideous."
Then the family moved to the Imperial House on East 69th Street, where her mother still lives. Later, when Ms. Jong-Fast was in her early 20's, a grandpa (the other one was famous communist Howard Fast) bought her an apartment in the building. It had belonged to a woman who'd died there after a diabetic coma.
But she got married, moved away to Chelsea, and later came back uptown to a duplex. "I felt like I wanted to be closer to my parents," she said. When asked about other neuroses, she said—no joke—a fear of flying. "Hilarious for everyone but me," she deadpanned.
But Ms. Jong-Fast is pregnant with twins, so the stairs at that duplex became tiresome. With a corner master bedroom suite facing toward Central Park, will she be a neighborhood shopper? "I'm just not like that. I mean, I'm happy for those people. Quite frankly, they have to exist. It's important for the ecosystem; it's like plankton."
Can a woman who calls herself and her family "schlumpy … messy and not classy," be happy in a $5 million co-op? "It works for us because it's so weird and counterintuitive," she said.
The four-bedroom apartment came with flat-screen televisions, which the couple are tearing out, along with the wet bar, in order to make space for books. "Swear to God," she said, "there are no bookshelves."