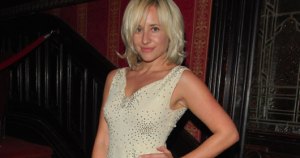 Last week Tamsin Lonsdale, founder of the upscale social networking service The Supper Club, described a recent experience at the Spotted Pig.
"We were having a very civilized dinner," she recalled to the Transom, "and suddenly, uh, the music got cranked up, and there were 50 movers and shakers on the dance floor, and Jay-Z and Beyoncé were hanging out with us."
On Tuesday, Dec. 10, a witness who was at the Spotted Pig that legendary night called offering further information about the time Ms. Lonsdale and her party spent in the vicinity of Jay-Z, who is part-owner of the restaurant, and his girlfriend, pop singer Beyoncé Knowles.
The source said that despite being repeatedly reminded by staff of the explicit 8 p.m. to 11 p.m. time limitations on her party, which was occupying a third-floor private room, Ms. Lonsdale refused to leave, and that her reluctance to scram was only heightened upon hearing that Jay-Z was waiting to use the chamber.
The source says that after Jay-Z and Beyoncé grew increasingly frustrated cooling their heels on the first floor, the couple finally mounted the stairs. After a short time the source overheard the rapper asking a staff member to inform Ms. Lonsdale that her time was up.
Ms. Lonsdale apparently did not take this warning seriously, despite the fact that the stars' bodyguards were hard to miss. "Beyoncé's guy is like a six-foot-six Samoan guy," chuckled the source, "and Jay's guy is like a six-foot-seven bald-headed Dutch guy who just looks like he wants to kill you."
"Cut to the next scene," the source continued, "in which Tamsin is literally being picked up in the air by Jay's guy and thrown out and screaming 'Do you know who I am?'"
"Tamsin was in no way manhandled by security," said a Supper Club spokesperson, "nor did she tell anyone 'Do you know who I am.'" He said that Pig staff began hustling out Ms. Lonsdale's party at 10:45 PM, before they were even "finished with dessert."
"After Tamsin left, a few members stayed as Jay-Z's party was entering the special events room at the Pig. They were forcibly removed by security and then not allowed to get their coats. They were not drunk or uncooperative, they just were not leaving fast enough for the Pig.
"All of this was very unprofessional and made them feel very unwelcome," the spokesman said. " They don't really seem to care about their paying customers. It's just disappointing."
A call to Jay-Z's representative was not immediately returned.