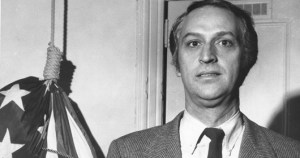 Stephen Radich, a New York art gallery owner who became embroiled in a famous legal case involving flag desecration in the late 1960s, has died at 85 in New York, according to the New York Times. From 1960 to 1969, Mr. Radich operated the Stephen Radich Gallery at 818 Madison Avenue, where he exhibited works by contemporary artists like George Sugarman, Yayoi Kusama and Dmitri Hadzi. In December, 1966, he presented works by Marc Morrel, a little-known artist who incorporated American flags into works protesting the Vietnam War. In one piece the flag was stuffed and hung like a corpse; in another, it was made into a phallus attached to a seven foot cross topped by a bishop's miter.
After the exhibition came to the attention of the New York police, Mr. Radich was summoned and eventually convicted of casting contempt on the American flag. He was ordered to pay a $500 fine or serve 60 days in jail. (Mr. Morrel was not charged.) The New York State Court of Appeals upheld the conviction. Called as an expert witness, the critic Hilton Kramer, who was then writing for The New York Times, testified that Mr. Morrel's sculptures were legitimate works of art, albeit feeble ones.
After losing in New York, Mr. Radich appealed to the United States Supreme Court, which, in 1971, voted on the case 4 to 4, with Justice William O. Douglas not voting. Then the Circuit Court of Appeals ruled that a tie vote did not represent an actual adjudication, thereby allowing for yet another appeal. Finally, in 1974, a federal judge overturned the conviction.
The case became a cause célèbre in the New York art world. In 1970, the Judson Memorial Church in Greenwich Village organized the People's Flag Show to protest Mr. Radich's conviction. The show included artworks in many different media that featured flags. Abbie Hoffman appeared in shirt made from a flag, and three artists were arrested for flag desecration: Faith Ringgold, Jean Toche and Jon Hendricks.
In 1967, before his first appeal was heard, Mr. Radich said that losing the case "could affect the future of art galleries, a very important industry in New York whose right to show new work without interference from police could be severely threatened."