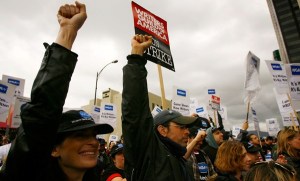 Via Deadline Hollywood Daily:
2007 STRIKERS GUIDE TO LOS ANGELES STUDIOS
CBS RADFORD
Once the "ultimate destination" for the "proletarian struggle," now this "no frills" "bunker" is a "safe bet" for avoiding anyone you've "slept with." "Ample construction dust" and "non-specific anxiety" make visiting the MacDonald's bathroom a "high point" at this "bland", "very casual" locale. "A gem."
DISNEY STUDIOS
When it comes to "waving cardboard" at the shadow of a "frozen, Nazi-loving ghost," the sine quo non is this "stand-by", "folksy" institution. "A slice of Fascism" proclaiming "free air" and "live squirrels," the Disney Imagineers seem to have "worked overtime" in providing "the feeling you are being recorded," but more "for retribution than for pay."
FOX STUDIOS
"Prius drivers and black women always honk" has never seemed truer
than at this "one-of-a-kind" "propaganda stockyard." You'll "come for
the principle" but you'll "stay for the guilt" as host Rupert Murdoch
serves up "no easy sneak out routes" and keeps "residual-philes"
"hanging in till three." Although CAA agents no longer "hand out
pastry on trays," those "in the Biz" may entertain the notion of
"leaping into the fountain for a penny."
NBC BURBANK
Getting a school bus to honk has never seemed so "chic" as at the
"legendary" Burbank "chez Leno." "Enthusiastic die-hards" stand in
"long lines" to "stand in a long line" as stories of "touching John
Edwards" and "creepy Ambassador Hotel premonitions" make striking at
NBC Burbank the West Coast answer to "yelling at any New York office
building."
PARAMOUNT MELROSE GATE
Memories of Myrna Loy and Star Trek mingle with the aroma of "feet"
and "that guy from that pilot" at this "clubby", "old-school" "bastion
of the corporate over-lord." "Six miles of aerobic walking" and a view
of "Mathew Modine in a sweater" seem a "nifty trade off" for "your
career." Haute amenities include "shade" and "sitting on a planter."
SONY PICTURES
Enjoy the visual ambience of "a plating company" and "people with
jobs" as you "make eye contact" with "sassy moguls." When I say
"Union," you'll say "Kill Me" as you "trudge" around this "larger than
it looks" "Deco whale." "How's that iPhone?" and "What have you
heard?" pepper the banter on this "seemingly endless death march."
Locals recommend the Paul Haggis.
UNIVERSAL BARHAM GATE
Don't let "searing asphalt" and "noxious fumes" deter you from this
"centrally located" "barren intersection" which insiders have dubbed
"Universal's hind end." Make sure you try the "sunscreen" as a defense
against "le sol dangereuse." "Bright" and "minimal", Barham boasts of
proximity to a "furnished apartment complex" as well as a
"graveyard," so "ingrate picketers" can see not only where they're
headed, but also where they're ultimately headed.
WARNER BROS
"Kick back" as an "Asian girl" makes you "chant like a Marine" and
crew guys give you that "hey fag" look as you sample the many
entrances to this "lavish, animation-geared sweatshop." "Giant,
plentiful, life-like murals" of "other people's hits" make you feel as
if you are "walking in a circle in the sun." "Free Pizza" and
"limitless In and Out Burgers" have recently given way to "water" and
"whatever's in your pockets."