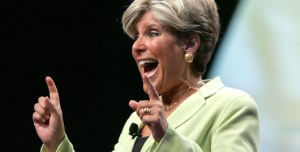 Suze Orman, the well-tanned finance guru, who writes huge-selling books like You've Earned It, Don't Lose It and The Courage to Be Rich, once said she was simply aghast at real estate mania. Rampant condo speculation, she intoned, was a sure sign Americans were "losing their minds."
But a deed filed today show that trusts in the name of Ms. Orman and her partner Kathy ("get yourself a living revocable trust" was Ms. Orman's New Year's advice for 2006) just closed on a big apartment at the newly redone Plaza.
They paid $3,610,886 and 34 cents.
No mortgages were taken out for the Central Park hotel purchase, public records show, which means she paid in cash. "I think if you can pay cash, you should," Ms. Orman says in this interview.
But when asked if we should buy the biggest house affordable, she says no. "I've always purchased homes that only are what I need. I'm never at a home very long! I come into a city, I spend a few days there, I'm gone."
Whenever she's at The Plaza, she'll have 100-year-old mosaic tile patterns in the bathroom, walnut-bordered herringbone parquet in the living room, and a "one touch, high resolution, wireless flat-panel display" for security, concierge, and "interior ambience." Get yourself some herringbone parquet.