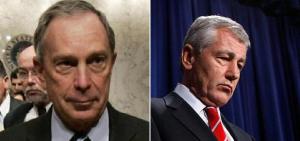 Mike Bloomberg seems intent on not killing the speculation that he might mount an independent presidential campaign. And Chuck Hagel seems equally intent on stoking talk that he's interested in a spot on a national ticket next year – especially one led by the mayor.
Yesterday brought word that the two have been holding regular get-to-know-you phone calls and that they have discussed potentially running together. The Hagel-Bloomberg dance has been going on for a while.
In May, Hagel had dinner with Bloomberg and then went on "Face the Nation" and slyly noted, "It's a great country to think about – a New York boy and a Nebraska boy to be teamed up leading this nation." And, even as he announced in September that he wouldn't seek the presidency in '08 and that he wouldn't run for re-election to his Nebraska Senate seat, Hagel did nothing to discourage talk that he might serve as Bloomberg's Number Two.From Bloomberg's standpoint,the pairing would make perfect political sense.
In Hagel, Bloomberg would find a running-mate with Washington experience, foreign policy expertise, and a no-nonsense manner that could inspire confidence. And Hagel's blunt outspokenness, which has made him a pariah within the G.O.P., would go over very well with independent voters.
Hagel, though, may not need Bloomberg quite as badly as Bloomberg would need him. While no G.O.P. nominee – with the exception of Ron Paul, if he were somehow to win – would consider Hagel for V.P., he'd be very attractive to any of the Democrats. And he seems to know it, publicly suggesting he'd consider an offer from a Democrat and even handing compliments to Hillary Clinton.
But his best chance for a spot on a national ticket would be with Bloomberg. The question is under what circumstances the mayor would run. One report suggests he sees a Hillary-Huckabee contest as the ideal scenario, with each major party nominee polarizing the electorate, thus opening the door for a third choice.
That sounds about right. If Barack Obama were to win the Democratic nomination, it's tough to see the masses agitating for an independent candidacy. If the Republicans nominate John McCain, it would also deny Bloomberg an opening. But if the major party nominees are Hillary and any non-McCain Republican (including a now-battered Rudy Giuliani), expect Bloomberg to take a serious look at jumping in.