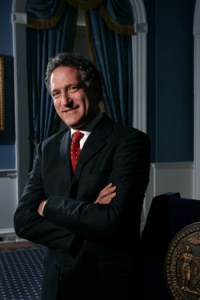 Once there was Yankee Stadium. Now there is Coney Island.
Once there was the West Side Stadium. Now there are the West Side rail yards.
Once there was Atlantic Yards. Now there is Moynihan Station.
For just about each of Deputy Mayor Dan Doctoroff's early development projects, there is now another similar one wending its way through a review process. The new one may be just as ambitious–and controversial–as the old, but it is infused with a vastly different sensibility, more patient in its approach, more responsive to the grass-roots community.
As he is about to step down as deputy mayor for economic development and rebuilding, Mr. Doctoroff eschews the idea that he or the Bloomberg administration went through a sea change in the way they approached development over the past six years. But it is hard to deny that he is, if not exactly more conciliatory, at least smarter about what he wants and how to get it.
"It is fair to say that we have become better listeners, and we have reached out earlier and more often to the State Legislature," Mr. Doctoroff told The Observer in a telephone interview on Dec. 10. "On the other hand, we would not say that we did not go out and promote our ideas before. We have gotten better at it. I would not say there has been a dramatic shift."
Still, what a shift there has been. On June 15, 2005, the Bloomberg administration announced that it supported a new Yankee Stadium. Without further ado—and in a process critics say ramrodded the project through—eight days later, it got the Legislature to set aside the park land where the ball team would build it.
By contrast, the mayor announced on Nov. 8 of this year that the city wanted to swap park land to make way for a new amusement district in Coney Island. It will hold a couple of public meetings about it, and then leisurely ask that park alienation be introduced in Albany in January, and the city expects that it will take until June to get it passed.
Here's another example: The same rail yards where city and state taxpayers were supposed to build a platform and allow the New York Jets to build a new stadium is now the subject of a complex private-public, City Hall-Metropolitan Transportation Authority arrangement. This time around, a combination of offices, apartments and stores will be built (along with a new school, a couple of parks and a cultural facility) by a private developer, chosen through a competitive process, who will give a few hundred million dollars to the transit agency's capital budget; build the platform on his own dime; preserve most if not all of the High Line, the old elevated train track turned park; and put aside a few hundred apartments for low-income families.
Mr. Doctoroff suggested that each of these projects has to be treated independently, and that the process—i.e., the level of community involvement—would vary.
"You cannot take a cookie-cutter approach," he told The Observer. "Sometimes you have to seize the opportunity and still provide the community input that it deserves."
But he also added that one of the lessons he learned is that ULURP—the name for the city rezoning process—works. The deliberative, and at times contentious, seven-month review procedure takes a project through a community board, a borough president, the City Planning Commission and, finally, the City Council—with a public hearing and vote at each step.
THIS IS QUITE a change from a few years ago, when Mr. Doctoroff and then Governor George Pataki decided to take the West Side Stadium through a state process that avoided the possible contention of city politics. But it was in Albany where Assembly Speaker Sheldon Silver killed it; a majority of City Council members ended up supporting the idea.
There is one other project like that—although it ended up getting Mr. Silver's approval—that Mr. Doctoroff now has second thoughts about.