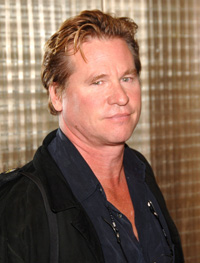 To the noble category of movie stars who dabble in singing—Jeff Bridges, Kevin Bacon, Don Johnson—add Val Kilmer, who has quietly been shopping a new album.
Mr. Kilmer, 47, who starred as Jim Morrison in the 1991 Oliver Stone biopic The Doors, and his partner Mick Rossi, a New York-based keyboardist and percussionist, have been passing around a modestly designed CD whose black cover reads Val Kilmer: Sessions With Mick.
A highly personal recording, it features seven songs co-written by the duo that run the gamut from foot-stompin' rock to moody, guttural ballads.
"Yeah, hey yeah, hey yeah," Mr. Kilmer sings in the opening track, "Pigtails." "I've been growing sideways, I've been growing thin, I've been a zombie all day, I've been preventing sin. Noobadaba dootoo, Noobadaba dootoo."
Judging by another song, "True Friend," which includes a gentle background tickling of ivories, the actor, who has dated Cindy Crawford and Daryl Hannah, seems to be working through some kind of betrayal. "One more mortal has let me down," Mr. Kilmer intones, in a voice that sounds like his impression of Elvis in True Romance. "I'm alone with my rhyming in an unknown town. Alone with poetry, and foreign football on hotel television. A text message from a troubled kept woman, and I bend and I bend and I bend and I'm a-bendin'." Could this be a reference to one of the many nights he reportedly spent sleeping in the hallway of the Chateau Marmont? "
An even darker side is revealed in "Frontier Justice." "I saw you with him. You took his hand. You went in that motel room, you drew them blinds." And then! "I took his .45, ain't gonna tell no lie. I walked right through that rain, trying to feel my brain. My hand went numb. Oh, God, thinkin' what I had done."
Track four brims with holiday spirit. "Snow is falling, Christmas is calling—don't you know happiness is all that we need live for."
"No comment for now," said Mr. Kilmer's rep.