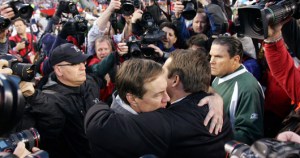 As the Jets wind down the latest installment in a long line of disappointing seasons, one thing is certain: never before has the organization's chronic incompetence come so clearly in focus as it figures to be on Sunday afternoon, when it will be juxtaposed with the arrant perfection of the best NFL team in a decade.
That this perfect Patriots team is a chief division rival adds insult to injury; that it is coached by Bill Belichick adds insult to insult. And so, as the Jets prepare to enter Sunday's game as perhaps the longest longshot in modern NFL history, their fans are left to reprise a familiar, if lamentable, yuletide tradition characterized by irrational hope in the future.
Doubtless, this tack has served them well before. When Joe Namath's Jets followed their shocking victory in Super Bowl III with a seven-year stretch wherein they posted one winning season, the Jet fan could find solace in the knowledge that if his team was not better than its opponent, it was, by virtue of Namath alone, cooler. And after Namath left for browner pastures in Los Angeles, the Jets succeeded in fashioning a new identity with the fabled Sack Exchange, whose dominance as a unit was matched only by the manifest insanity of its constituent parts. By any measure, it was more than enough reason to watch. Even the misery of Rich Kotite's Reign of Error was abated when, after only one season, his misfeasance gave rise to delicious speculation about the clandestine return of Bill Parcells to New York.
And so Jet fans have weathered their many storms by delighting in small pleasures. But this year's iteration presents a special challenge, for these Jets are worse than bad; they're boring. And if there is any greater embarrassment than watching them enter this week as a 27-point underdog, it lies in the plain truth that the Jets are, at every turn, a cut-rate copy of their hated arch rival.
The mimicry dates to the opening stages of 2002, by which time the Jets had already spent more than a year attempting to copy the Super Bowl blueprint of yet another team, the Tampa Bay Buccaneers. After the Jets began the 2002 season with a 1-3 mark, it became apparent that the team lacked both the players and the coaches necessary to successfully implement the system that had worked so well for the Buccaneers. Thus, the Tampa paradigm was quickly–and quietly—-abandoned in favor of a different, more recent ideal: the Patriots. After watching a young Tom Brady replace an injured Drew Bledsoe en route to leading the 0-2 Patriots to an unlikely Superbowl victory in 2001, the Jets called upon their own young quarterback, Chad Pennington, to replace an injured Vinny Testaverde in the hope that they, too, could catch lightning in a bottle. Five years later, Brady has parlayed Belichick's bold experiment into two more rings and a spectacular cast of supermodel attaches. Meanwhile, Pennington has spun his own big chance into a sock hat and clipboard.
If the process began in 2002, when the Jets hoped that Pennington would become Tom Brady, it continued at the conclusion of the 2005 season, after the Jets were unceremoniously fired by head coach Herman Edwards. Out of that vacuum came the belief that Jets needed to be even more Patriots-like. In fact, so desperate was their desire to mold their team in the form of their chief tormentors that they handed the organizational reins to a 35-year-old neophyte whose only apparent qualification was a brief apprenticeship with the Patriots.
Now, as they languish in the throes of yet another lost season, the Jets prepare to face a perfect team on whom they are modeled and against whom they have managed just two victories in their last 12 tries. This has become a rivalry in only the most nominal sense, the Jets having lost to the Patriots by an average of more than 10 points a game since the start of the 2002 season.
That alone is daunting. But worst of all is this inescapable reality that, from their head coach to their ill-conceived 3-4 defense, the Jets are nothing more than a half-hearted knockoff of these Patriots; a Skeet Ulrich to their Johnny Depp.
So what to do? In past years, if all else were lost, the Jet fan could while away his days contemplating the fruit of his team's futility: a high draft choice with which to select a premier talent from the collegiate ranks. And because the NFL draft is set up to enrich the needy and impoverish the rich, a right-thinking Jet fan could find hope in the belief that his team's draft choice would help narrow the gap separating the Jets from their rivals, who would choose much later and after many of the best players were gone.
But even that prospect affords no comfort in this cruel season because, by virtue of a certain draft-day swindle in April of this year, the Patriots were able to secure the 2008 first-round draft choice of the San Francisco 49ers, a moribund franchise whose 3-10 record has the perfect Patriots slated to choose second overall in 2008, three spots ahead of the hapless, desperate Jets. Good grief.
It is against this backdrop that the Jet fan strains to find some meaning in this season and, more particularly, this game. To a man, these Jets declare no special motivation to derail the Patriots' perfect season. Just another game, they say. No guaranteed wins from this lot. Ordinarily, such reticence could be dismissed as gamesmanship, but in a season in which they have so often snatched defeat from the jaws of victory, one wonders whether they aren't telling the truth. Clearly, the players are right when they say that this game will neither salvage their season nor ruin the Patriots'. But then again, there'd be no harm in winning it and, perhaps, taking one small step back to self-respect.