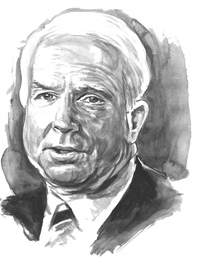 John McCain's campaign was left gasping for breath this summer, when the Arizonan seemed to run out of money, support and hope.
Since then, the opening has been there for any of the other Republican candidates to put Mr. McCain—this contest's initial front-runner—out of his misery.
But here we are, just weeks before the first primary votes will be cast, and Mr. McCain has slowly nursed his way back to relevance and a plausible, if not likely, nomination scenario.
It's a turn of events that says as much about Mr. McCain's rivals, each of whom seem to be equipped with at least one breakout-killing flaw, as it does Mr. McCain himself.
Rudy Giuliani remains the default choice of the casual Republican voter, the leader in national polls and in most of the big-state contests that will come later in the nominating process.
But his numbers have been flagging, and his standing in the leadoff states is miserable, a consequence of Mr. Giuliani's tactical decisions, a torrent of embarrassing news stories and the candidate's uninspiring defensiveness in debates. If he doesn't even factor in Iowa, New Hampshire and South Carolina, Mr. Giuliani's butter-soft support in the later contests might just melt away.
Nor has Mitt Romney evolved into an overpowering force. He has the right raw ingredients: looks, executive experience, a confident ease on television and positions on every major issue that mesh perfectly (and quite conveniently) with the party base.
But he's also inspired a backlash, thanks to his recent history in Massachusetts, a decade's worth of centrism and liberalism that contradicts virtually all of his current rhetoric. Moreover, a serious wrench has been thrown into his strategy—win Iowa, then New Hampshire, then South Carolina, then everything else—with the emergence of Mike Huckabee, the Baptist preacher who seems likely to deprive Mr. Romney of a jolt of momentum he'd been banking on to bolster his standing elsewhere.
Not that Mr. Huckabee is much better-positioned to win. His charming manner, quick wit and masterful debating skills won him notice when he was an afterthought in the polls, just as his early willingness to butt heads with the G.O.P. base on economic issues and immigration made him an initial favorite of the media. And his Christian roots have made him a grass-roots favorite among evangelicals.
But Mr. Huckabee, like Mr. Giuliani and Mr. Romney, has been roughed up by the ghosts of his own past, which have emerged only in the past few weeks. Mr. Huckabee is now haunted on a daily basis by questions about his role in the parole of a convicted rapist who went on to commit murder, about his seemingly insatiable appetite for gifts when he was a governor and about his history of extreme utterances on divisive social issues. His overt flaunting of his religion may work in Iowa and in parts of the South, but the "new" Mike Huckabee's potential appeal is much narrower than the old one's.
And Fred Thompson is in even worse shape. His campaign was supposed to electrify the hordes of Republican voters who were so initially uninspired by the rest of the field. But the rescue mission has been a dud from day one. Mr. Thompson's support has done nothing but drop, he is invisible on the campaign trail and his advisers have been reduced to talking up his chances in South Carolina, where he's one of about five candidates within theoretical striking distance of the lead. So much for Iowa, New Hampshire and just about everywhere else.
In fact, a case could be made that Ron Paul, who has raised a stunning $17 million from small-dollar donors in just the past two months, is a more legitimate top-tier candidate than Mr. Thompson. Dr. Paul actually fares better than Mr. Thompson in New Hampshire and isn't far off his pace in South Carolina. But Dr. Paul's support ceiling is limited: somewhere in the low-to-mid teens in the early states. He is the voice of a frustrated minority of the G.O.P.—but he'll always be opposed by the majority of the party.
And all of that brings us back to Mr. McCain, who has his own set of problems: He's crossed the party base on immigration, torture, global warming and (even though it was a few years ago now) campaign finance reform.
But he's also acquitted himself admirably in just about every Republican debate, winning back bundles of respect for standing by his apostasies while his rivals—most notably Mr. Romney and Mr. Giuliani—pretend they've always been the conservatives they now claim to be.
Mr. McCain will have to win New Hampshire to have a chance, and he'd probably need to follow that up with a South Carolina win as well. He'll need some other breaks too. It's all a little hard to imagine.
But it's also hard to imagine anyone else running away with it.