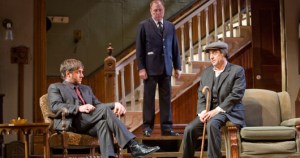 Harold Pinter's The Homecoming (1965) is the dysfunctional family play of the modern era that redefined domestic drama. It established Mr. Pinter's international reputation, and remains the most emotionally and verbally violent of all his memorable portraits of suppressed feeling. It's a grotesque comedy of family life whose revival on Broadway—starring Ian McShane as the psychopathic patriarch—is surprising and welcome.
In our over-talkative times, absolutely nothing is left unsaid or unexplained (or unforgiven). Mr. Pinter's The Homecoming is the polar opposite of Tracy Letts' admired epic soap opera and dark comedy of dysfunctional American family life, August: Osage County, where absolutely everything is said (and nothing much is left to the imagination).
The immense power and mystery of the unspoken word has long been Mr. Pinter's signature. The cryptic muscularity of his language and the formative influence of the absurdist black humor of his mentor, Samuel Beckett, account for the near-surreal poems of menace in plays like The Homecoming. It's a tantalizing Oedipal nightmare about male fantasies and reality—or the danger zones that exist between what's said and imagined, and acted upon.
There are those who've always taken the chauvinism of its male thugs too literally and found the play abusive toward women. (Max, the brutal father, confides tenderly about his late wife, "Even though it made me sick just to look at her rotten stinking face, she wasn't such a bad bitch.")
Ever since I saw the original production, however, in which Mr. Pinter's glacially poised, beautiful late wife, Vivien Merchant, caused a seductive sensation by simply crossing and uncrossing her legs, I've been convinced that The Homecoming—and Mr. Pinter—are reveling in the triumph of the female sex over poor, poor, salivating men.
It's a play set in North London (Mr. Pinter's birthplace), for five men and one woman, and in its ambiguously perverse way, it's about desperate need and love. In Act I the expatriate Teddy, a professor of philosophy at an American university, returns home with Ruth, his aloof British wife and mother of their three children. Teddy's low-rent family has never met her before. By the resolution of the second act, Ruth has left her apparently indifferent husband to live with the family and work for them as an upmarket hooker in the West End.
THE FAMILY CONSISTS of monstrous Max, the widower and retired butcher whose mocking cockney cruelty is leavened by outbursts of ridiculous warmth. ("What fun we used to have in the bath, eh, boys?") The boys are educated Teddy, maintaining what he calls his "intellectual equilibrium"; Lenny, an insinuating cutthroat pimp; and Joey, a slow-witted construction worker and failed boxer who doesn't know how to attack or defend. Also living with them is Max's much-abused brother, harmless, neutered old Sam, a chauffeur and, one supposes, a homosexual.
When Max first claps his accusing eyes on Ruth, he calls her a whore. "I've never had a whore under this roof before," he announces indignantly to his sons with unintended humor. "Ever since your mother died."
Ruth is mesmerizingly played by the poised British actress Eve Best. (In profile she bears a ghostly resemblance to Vivien Merchant.) Max might be fantasizing about Ruth. All his boys might be. But she was a hooker before she married the philosopher—or so it seems. She was a "model" who's now tempted to return to her former trade as a classy Mayfair Madam. Ruth fears no one: She's the only one who's truly secure in the role she's playing.
Daniel Sullivan's uneven production of The Homecoming comes into its own in the second act, when it loses its archness. Mr. Pinter is frequently trapped in the myth of the "Pinteresque." The mannered silences and pauses of the subtext ought to be played more naturally, whereas Mr. Sullivan can make a meal of Pinteresque clichés.
The handsome Ian McShane's central performance as the ageing and unattractive Max is, as yet, too broad and starry. (With his long hair, Mr. McShane fleetingly resembles the demon barber Sweeney Todd.) His Cockney accent and manic sense of unpredictable malice are well done, but he's a shade too showy, preeningly brandishing his walking stick like a theatrical prop when it ought to be a weapon, a murderous extension of Max's warped soul.
Six seasons ago, Ian Holm's memorable performance as Max in another revival of The Homecoming was more like a ticking bomb. Mr. Holm has been Harold Pinter's leading interpreter over the years: He played Lenny in the original production. Raúl Esparza's recessive interpretation of the sneering sociopath in the new production can't quite live up to the memory of it. But Messrs. Esparza and McShane hit stride in a beguiling second act that brings fine contributions from James Frain as Teddy, Gareth Saxe as Joey and Michael McKean as sweet Sam, whose dying breath is a mad, comic curse.
Ms. Best's Ruth triumphs over all—which is only right. The Homecoming has always sided with the power and comfort of the Madonn a-whore in a man's world.