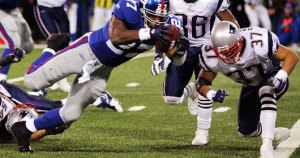 How did it take the Giants 17 weeks to figure out how to click on both sides of the ball, especially against the juggernaut Patriots? Maybe all it took was the extra motivation that came from the chance to stop a team from going 16-0.
While the perfect Patriots finally figured out how to break through the Giants' blitz and aerial attack in a close, tense and entertaining 38-35 win, the hope is that New York will take what it has displayed in this game and maintain its physical intensity as the playoffs begin.
New York needs to be physical on offense and defense. For the first time all season, players were intimidating not just during but even after plays. Toward the end of the first half, Plaxico Burress shoved members of the Patriots secondary to the turf after the whistle blew. Brandon Jacobs drew a delay of game penalty after his eye was poked by Vincent Wilfork as he stood up to the Pro Bowl nose tackle. Later, he ran over New England safety Rodney Harrison. When this team has no fear and plays as if there's nothing to lose, apparently, it thrives.
For Eli Manning, it was perhaps his best game since the season opener in Dallas. He showed the ability to stay calm in the pocket even under pressure. With less than two minutes to go in the third, his protection began to collapse on a critical third-and-10. Instead of backing away and throwing off his back foot (something he's had trouble with all season), Manning stayed upright and threw a first down pass to Amani Toomer. He must watch a tape of this game to understand that standing in the pocket for another second or two will make all the difference in completing passes. In fact, he should watch how Tom Brady withstood blitz after blitz and was able to find his talented receiver corps in traffic.
Speaking of the Giants' pass rush, coordinator Steve Spagnuolo should take a lesson of his own by viewing Brady's play. New York's MVP on the sidelines can't call for a blitz on nearly every play. Even though Brady had trouble under pressure for three quarters, Bill Belichick and his coaching staff were able to adjust to the challenge, giving the Patriot line help on the weaker right side and inserting one or two backs to block. Teams in the playoffs will similarly alter their schemes if Spagnoulo doesn't mix his defensive looks throughout games.
The team may yet pay for Tom Coughlin's decision to play his starters for the entire game as Kawika Mitchell, Shaun O'Hara and Sam Madison, all vital to the team, left with injuries. But the Giants will go into the postseason with swagger and confidence that they can compete with even the best team in the NFL. And that's priceless.