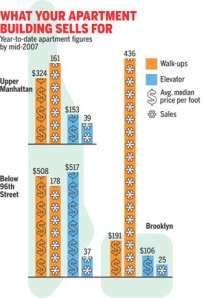 Higher rents and higher condo prices have made New York City apartment buildings—from snazzy elevator ones with doormen to rickety prewar walk-ups with jammed entryway mailboxes—more valuable than ever, particularly in Manhattan. It's pretty simple, really: Building buyers see a potential for greater profits through investing in even the ugliest ducklings on the unlikeliest blocks.
The 178 Manhattan walk-up apartment buildings that sold in the first half of 2007 below 96th Street traded for a median price of $508 a square foot. The 37 elevator buildings sold during the same time in the same slice of Manhattan went for $517 a foot. Both medians were the highest since at least 2002, according to a report from investment-sales brokerage Massey Knakal.
The median price of walk-ups in Upper Manhattan peaked as well, cracking $300 a foot for the first time. The median price for all apartment buildings citywide traded in the first half of 2007, including mixed-use ones, was $231 a foot, up 2.6 percent from the last six months of 2006.
Three things largely dictate the sales prices of apartment buildings: the current rents; the likelihood for rent increases; and the potential for conversion to other uses, most likely to luxury condos. (Retail in a building also plays a sales-price role.)
So it should be little surprise that 2007 saw price spikes: Manhattan rents increased rather steadily, driven by tighter vacancy, and at the same time, condo prices increased even as more new condos spilled onto the sales market.
The average one-bedroom in a non-doorman, nonluxury Manhattan building was nearly $3,000 a month, by the start of autumn, according to brokerage the Real Estate Group New York, which analyzes rents below 100th Street. For a studio, the average rent was $2,151.
Luxury apartment buildings rented for a lot more, oftentimes for record highs in 2007. A studio in a doorman building on the Lower East Side—a neighborhood that just a few years ago was many syllables away from the word "luxury"—was going for an average of $2,390 a month by October.
These rents are likely to continue to rise or to at least stay the same into 2008. The eternal market dance assures that people keep moving into, and around within, the city. The Manhattan apartment vacancy rate is expected to finish 2007 at below 2 percent, making the borough the tightest market in the U. S., according to investment-sales brokerage Marcus & Millichap. Brooklyn, for one, has a similarly low vacancy rate—New York University's Furman Center for Real Estate and Urban Policy last year pegged it at below 3 percent based on 2005 data.
Higher condo sale prices, along with these higher rents amid steady tenant demand, also made apartment buildings a more attractive investment in 2007. The average price per square foot for a Manhattan condo increased 9.3 percent this year through September to $1,278, according to research firm Radar Logic, and the median price increased 13.1 percent to over $1.1 million. And Manhattan condo sales were up in the third quarter of 2007 nearly 65 percent from the same time last year.
Developers know the profit potential, then, for owning a building that can be converted or demolished completely and reincarnated as luxury condos. (Conversions of buildings into co-ops is exceedingly rare in the city, following the late 1980's surge.)
So are New York City apartment buildings the hot new real estate investment for 2008, trumping office buildings, which have sagged in desirability because of the credit crunch? Will we see moguls made of building buyers in the Bronx and Queens?
Not really and not likely.
The Massey Knakal report painted an undeniably rosy picture of the Manhattan apartment-building market by midyear—and firm principal Paul Massey told The Observer on Nov. 30 that the second half of the year has been equally healthy. But in the outer boroughs, things are not as even. In Brooklyn and Queens, the per-foot price of walk-ups actually dropped from the last half of 2006; and, in the Bronx, the price of elevator buildings has stayed flat for at least two years now.
Still, the potential for return on apartment-building investment remains tantalizingly high, and now may be the best time for landlords to cash in before the credit crisis seeps deeper into the city.
In March of this year, Richard Bassuk sold 14 apartment buildings in Brooklyn and Queens that had been in his family for decades—his grandfather amassed the portfolio and then passed it on to his five sons. Mr. Bassuk got $118 million for the buildings, which included 943 apartments.
"Until now we never considered selling the properties," he said in a statement at the time, "but the dynamics of the current market made the deal very attractive."