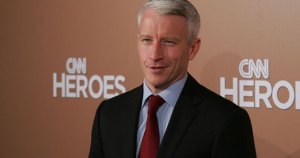 MONDAY
When did all of the networks put their New Year's shows in the hands of hosts who one secretly suspects would have a hard time finding dates for New Year's if they didn't have this TV gig? Ryan Seacrest (ABC, 11:30 p.m.), Spike Feresten (Fox, 11 p.m.)—how many times does the line, "I used to write for Seinfeld," work?—and the poor scab, Carson Daly (NBC, 11:30 p.m.), buoyed however much by the best musical acts of the evening, Lenny Kravitz and Alicia Keys.
And if that were the worst of it: Anderson Cooper hosts his own New Year's celebration (CNN, 11:00 p.m.)—apparently targeted at menopausal women with poor senses of humor—with a performance by Earth, Wind, and Fire and a guest appearance by comedian Kathy Griffin; MySpace celebrity Tila Tequila throws a masqurade party (MTV, 11:00 PM) where the countdown will be marked by her boobs dropping; and Bill Hemmer one-ups Cooper on the hip front with Fox News' "U Party With Fox News 2008" which will feature user-generated content and a ticker full of holiday text messages. We're gonna party like it's 1999!
TUESDAY
Starting the new year hungover, nauseated, and vaguely ashamed? Wouldn't it be nice to be able to stay in and watch some good TV? Sorry! ABC has the only scripted show not in repeats, the season premiere of the Jim Belushi sitcom, Life According to Jim (9:00 p.m.). Its lead-in is Just for Laughs (8:30 p.m.), a hidden-camera show in its second season. It's first prank? Videotaping people being forced to watch Life According to Jim. The horror!
Are you ready for some football? In the last couple of weeks, with most shows in repeats, one of the few consistent draws for networks (and ESPN, alike) has been the gridiron. This week, Fox practically fills its entire primetime line-up with college football bowl games, beginning with tonight's Sugar Bowl match-up between Hawaii and Georgia (8:30 p.m.).
WEDNESDAY
Heeeeeee'res … Dave! Late night is back, but only Letterman and the Letterman-produced Late Late Show With Craig Ferguson will have their writers, meaning not only presumably funnier lines, but better guests. (Celebrities are wary of appearing on shows that still have striking writers.) The rest will have to wing it. Five bucks Jimmy Kimmel is the first to have the inevitable Network moment.
Remember the days when TV shows where actually written? PBS does! Pioneers of Television (8:00 p.m.), which debuts tonight, is a documentary series that will focus on the boob tube's traiblazers. Tonight: sitcoms. Take a trip down memory lane with Andy Griffith and Mary Tyler Moore. Reminiscing about TV is almost like having some it to watch, right? Not quite. But at 9:00 p.m., NBC has a little treat—a Werther's Original, to be exact—the two-hour season premiere of Law and Order, now in its 18th season.
THURSDAY
It's caucus time! Pick a cable news network, any cable news network for coverage of the Iowa Caucus, the official kick-off to the 2008 presidential primaries. Watch democracy unfold in its most convoluted, opaque form. Flip back and forth between it and Celebrity Apprentice (NBC, 9:00 p.m.)—with Stephen Baldwin, Gene Simmons, boxer Lennox Lewis and—er—Omarosa from the first season—which will feature capitalism in its most convoluted, opaque form.
FRIDAY
20/20's Brian Ross exposes some "dirty tricks" in the 2008 presidential race [ABC, 10 p.m.]. Then, just for credibility's sake, the show will profile Sasha Gardner, a British model born with only one ear.