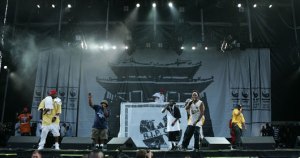 It's taken the Wu-Tang Clan six years to release their new album, 8 Diagrams, but the last couple of months—for fans and members, alike—must have felt like they took the longest to pass. In October, the Clan had tongues wagging when they announced that their first single would sample the Beatles' "While My Guitar Gently Weeps." Apparently, this would have been a first. But, as it turns out—after a call from their lawyers, no doubt—they retracted their initial statement, calling the song an "interpolation," not a sample. Still groundbreaking, but … Then Ghostface Killah, a Wu-Tang member, decided that he was going to release his new album on the same day as Diagrams. Despite rumored tensions, RZA, ever the chess master, decided to retreat, ensuring that everyone can make "mad cream." All will be forgotten, however, if the album sells, which all indicators suggest that it will. Lap up that cream, fellas.
As if that weren't enough for Wu-Tang fans, Raekwon and Ghostface Killah contributed to Cincinnati hip-hop producer cum rapper Hi-Tek's new album, Hi-Teknology 3: Underground. These guys are the musical equivalent of Philip Seymour Hoffman. Learn to say no!
The last three years of Philadelphia rapper Beanie Sigel's life make all the Wu-Tang Clan's drama seem like an episode of The Hills. Here's an excerpt from the Pitchfork review of his new album, The Solution: "In the almost four years since The B.Coming saw release, Beanie served 10 months in federal prison and was acquitted of an attempted murder charge that would've sent him away for a whole lot longer. He was shot twice during a botched robbery attempt. His stepfather was brutally killed in a Philly alleyway, his body set on fire. He saw the chaotic, acrimonious breakup of his label, Roc-A-Fella Records, and the dissolution of his hometown rap crew, State Property. He ignited a minor internet controversy when he told Kanye West, his labelmate and past collaborator, to come out of the closet." OK!
There is little to balance out this hip-hop heavy Tuesday—unless you're a fan of the Dave Matthews Band, who has a new live album. (They're still touring? Give it up, people.) Radiohead is offering its entire studio catalogue on three different formats: a CD box set—how quaint—downloadable mp3—how transient—and a 4GB USB Drive—how, um, portable! The USB port comes in the shape of the band's logo. (How cute. Between the pay-what-you-want model and this offer, it's becoming clear that Radiohead isn't anti-consumerism, as their dissident posture might have you believe, but rather uber-marketers. They missed their calling.)
Pink Floyd also has a box set with their entire studio back catalogue, Oh, By the Way. But instead of being forward-looking like the Oxfordian quartet, the label decided to package each CD in a mini-LP cover that mimics the original. This novelty will wear off quickly, however, once the fan realizes that the box set offers nothing beyond the original albums, most of which they already own.
Bonus: R. Kelly's "urban operetta" Trapped in a Closet, episodes 1-22, are now available on DVD—this is the first time all episodes are available together, although you can watch them all online here. He's easily the most terrifically entertaining of all the R&B stars. And that's some real talk [NSFW] …