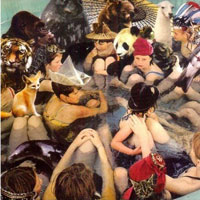 End of the year means one thing: lists—and a whole, heaping lot of them. There are as many "best of" lists—just check out this presumably exhaustive list of lists on the blog Largehearted Boy to get the picture—as there are albums worth mentioning. What's the "best of" the "best of"? Couldn't tell you. But here's a random sampling.
In the last half-decade, Pitchfork has made an art of the list. This year they have been slowly rolling out their annual coverage, milking every one of their year-end lists (not mention the weekly updates they make to their "Best New Music" section)—top 100 tracks, the favorite tracks lists of each staff member (36, to be exact), artists' favorite albums, worst album covers, top 50 videos (warning: major time killer)—just building the suspense until, let's be honest, they release the only list that really matters, their top 50 albums, which they did today.
NPR offers a special hour and a half edition of All Songs Considered to digest the year that was with host Bob Boilen and special guests, Carrie Brownstein (Sleater-Kinney) and reviewers Will Hermes, Tom Moon, and Meredith Ochs (no relation to Phil). Helped by the slightly more interesting talking-points of "most surprising" and "most disappointing" albums of the year, the show is a bit of a grab bag—there's definitely your Radiohead, Arcade Fire, the National, but there's also world music star Tabu Ley Rochereau, youngsters Vampire Weekend, and the innovative, softcore band Lucinda Blackbear.
In the same spirit, the Onion's A/V Club polled some of its favorite writers and arrived at a top 25 albums via a points system. This approach by committee, however, doesn't allow for the coveted surprise pick—it removes all suspense. This year's winner, by a whopping 15-pont margin, was Arcade Fire's Neon Bible. Meh.
There's plenty of Web 2.0 nonsense. Rolling Stone promised their list would be up by today, but, instead, readers are left to slobber over their own opinions. They voted for Radiohead's In Rainbows. Isn't that sweet? The readers are as obvious as the magazine they read. (Counterparts Spin don't come off much better, even if they did get their "real" list up by today: they endorsed "folk-punk rabble-rousers" New Wave's Against Me! as the best album of the year, ruining an otherwise competent list.)
For a commercial look at indie rock, check out Other Music's checkout "favorites" from 2007. Near the top of their list is Panda Bear's Person Pitch, an album of the "Liars meets Pet Sounds spirit music" (to quote Gorilla vs. Bear—who named it their favorite—quoting 20 Jazz Funk Greats). Although a clear critics pick (it was Pitchfork's!), the album, which came out in January and has largely flown just below the radar, deserves to benefit from all of the revisiting.
Finally, a reason for all this insanity.
People with albums coming out today: the indomitable Mary J. Blige offers up Growing Pains (the catchy "Work That" is featured on an iPod commercial in heavy rotation); Weezer's Rivers Cuomo has a solo album, Alone: The Home Recordings of Rivers Cuomo (sounds so emo); Muslim rapper Lupe Fiasco tries to top his 2006 grammy-nominated debut effort Food & Wine, with schizophrenic concept album, The Cool; and if you can't wait to see the movie, learn the songs: the soundtrack for Tim Burton's Sweeney Todd is now available.