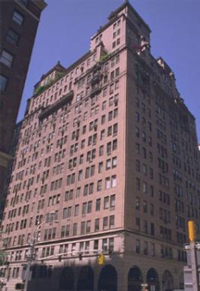 2007 was the year of the closet.
Back in March, Robert De Niro's wife Grace Hightower sold a 67-square-foot closet at Trump Palace for $13,000, about twice what she paid in 2003. Then in November, Google god Craig Nevill-Manning bought some storage space for one of his two penthouses, paying $85,000. And don't forget that Lionel Pincus is asking $50 million for a Pierre duplex with 35 closets.
But that's nothing. In September, the banking heir John L. Loeb Jr., once our loyal ambassador to Denmark, paid $5.58 million for a 6.5-room, 1,600-square-foot apartment at the high-heeled 480 Park Avenue co-op. His buyer, the deed shows, is Mexican-born art patron Leon Constantiner, whose collection reportedly includes a massive quantity of Marilyn Monroe snapshots. Mr. Loeb, on the other hand, is said to have built up the heftiest collection of 19th-century Danish art outside of the country.
Maybe he needed more space to keep his paintings? A deed filed with the city this week shows he spent $175,000 for a storage unit in the building. The square footage is unclear (but he paid over 13 times Ms. Hightower's price, and over twice Mr. Nevill-Manning's.)
The seller is D. Lee Hayes, a former manager of the municipal bond department at Lehman Brothers. Incidentally, Mr. Loeb is a scion of the Lehman fortune.