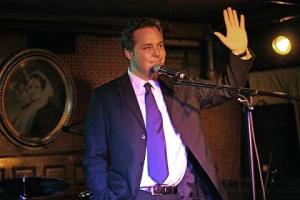 By the time I got to City Council candidate Evan Thies' kick-off campaign fund-rasier last night at Union Hall in Brooklyn, the party was going strong, but Thies had already spoken.
He sent over a copy of his speech, in which he talks about growing up in Brooklyn and how the borough has changed.
Excerpts from Thies' remarks:
Of course, a lot of you I also know very, very well. My boyhood best friend Matt Schnaars is here tonight. He's probably wondering what the hell I'm doing up here. But he can confirm that I did a great job in my last elected office. It was homeroom representative in the 10th grade—but I was a force for change in that high school, let me tell you.
I guess things have changed a lot since then. New York has changed a lot. My grandfather used to work on Pier 13 in Manhattan, unloading fruit from cargo ships. Now that industry is gone from there. They even wanted to put luxury condos on the piers in Red Hook—but we put a stop to that and hopefully saved some of the last port jobs in the City. My grandmother worked at Empire Box Factory on Messerole St. in Greenpoint. Now it's a luxury condo building. My father was mugged in Fort Greene Park, down the street from here. Now it's one of the nicest areas of Brooklyn.
If there's one constant in New York, it's change—and right now things are changing faster than ever. Development is our biggest issue today. It affects everything: where we can afford to live, the quality of our neighborhoods, and even where the jobs are. In the Northern part of this council district alone, where I live and my grandmother used to work, we will add 10,000 new residents in the next few years. Park Slope, Boerum Hill, Downtown Brooklyn are all growing. But who benefits from that? If billions are invested in our communities, shouldn't that mean that the folks who live here now can still afford to later; that our schools improve, not slide; that this becomes a nicer place to live and not a harder one to?