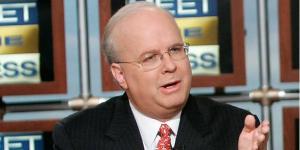 After weeks of speculation, it's finally official: Karl Rove's memoirs will be published by Threshold Editions, the conservative-minded imprint of Simon & Schuster's Pocket Books overseen by GOP strategist Mary Matalin.
Earlier this week, Mr. Rove and his representative in the deal, DC lawyer Robert Barnett, were deciding between Threshold and Free Press, another imprint of Simon & Schuster.
In the press release announcing the deal, Mr. Rove is quoted as saying, "I look forward to writing about my role in George W. Bush's campaigns and in his consequential and contentious Presidency. The book will be a candid, careful look at how he got there and what his Administration did once in office. It will tackle and shed light on important events and big controversies, spell out their implications for America and set the record straight."
Naturally, the announcement made no mention of how much Threshold is paying Mr. Rove for the book, but you can be sure there will be plenty of guessing in the next few days.