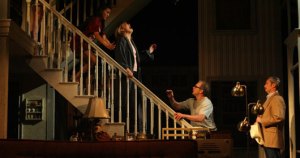 When it comes to theater, I'm an unapologetic elitist. Before I'm hissed in the streets, I ought to clarify that I believe theater should be completely and democratically open—but popularity isn't everything.
The only good move that would make theater honestly accessible isn't to lower artistic standards, but rather the ludicrously high ticket prices. Don't mess with the art. A theater of excellence is one that takes us up along with it; a dumbed-down theater inevitably takes us down. But we don't call that theater. We call that television.
I mentioned last week that Aaron Sorkin's The Farnsworth Invention belongs to a familiar genre on Broadway: the TV Movie of the Week onstage. Then again, Mary Poppins, Legally Blonde and Xanadu are among many examples of films live on Broadway, while the American Airlines Theatre forthcoming thriller is billed as "Alfred Hitchcock's The 39 Steps."
It's all so normal that the question I used to ask about Broadway shows—why not stay home and rent the movie?—has become redundant.
But when a serious play comes along, we're entitled to raise the stakes: Does it offer us a real alternative to movies or television? Because if it doesn't, why bother? If it's "like" seeing a film for 12 bucks, or staying home to watch TV for free, why pay a king's ransom to go to the theater?
That enduring question was first put to me by Peter Brook 35 years ago. He'd just directed his landmark A Midsummer Night's Dream at Stratford, and I was meeting him on the eve of his departure for Paris, where he formed his international troupe and abandoned his own successful career in order to search for something completely new. And as we talked, I was struck forcibly by his sense of urgency—as if the answer to the question about theater's future was literally a matter of life and death.
I came to prefer his theater of imaginative simplicity, where TV reality and the special effects of movies have no place. Call it a theater of magic, an outwardly naïve, artless art that enables us to imagine what—strictly speaking—isn't there. Shakespeare is Mr. Brook's model. ("For never anything can be amiss,/ When simpleness and duty tender it.") So in his epic The Mahabharata, one wheel is a chariot; a silk scarf is a child; a man an entire army; a bare stage earth and sky.
Mr. Brook's aesthetic isn't the only one; it's the one that appeals most to me. Or, as Tony Kushner put it when he described the angel crashing ecstatically through the ceiling in Angels in America: "It's okay if we see the wires."
For me, it's preferable to see the wires. I resist categorizing theater, even so. Chekhov or Brecht? (It brings to mind George Steiner's essay "Tolstoy or Dostoevsky?") As I see it, there's room in theater—lots of room!—for Chekhov and Brecht, for the social realism of Philip Seymour Hoffman's LAByrinth Theater Company, the profound moral conscience of the Epic Theatre Ensemble and the scintillating, imaginative experience of the National Theater of Scotland's Blackwatch (in my view the finest achievement of the season). There's a place for every kind of thrilling, uncompromising voice that shouts from the rooftops, "Listen to my story! Look around at the world and hear what I have to say."
Mr. Brook's plea for the uniqueness of theater has never seemed more urgent: How can we sustain a theater of consequence whose raison d'être is that it exists in opposition to the pabulum of TV when the difference between the two is becoming more and more dangerously blurred?
I disagree with Charles Isherwood's exuberant declaration in The New York Times that Tracy Letts' saga of dysfunctional family life, August: Osage County, is "flat-out, no asterisks and without qualifications, the most exciting new American play Broadway has seen in years." Whether or not he's right about the gifted Mr. Letts' ambitious new play, look at the references he uses to authenticate its "turbo-charged" three acts and "blissful" three and a half hours:
"The play has the zip and zingy humor of classic television situation comedy and the absorbing narrative propulsion of a juicy soap opera, too. In other words, this isn't theater that's good-for-you theater. (Not that there's anything wrong with that, to quote an immortal line from a beloved sitcom.) It's theater that continually keeps you hooked with shocks, surprises and delights, although it has a moving, heart-sore core. Watching it is like sitting at home on a rainy night, greedily devouring two, three, four episodes of your favorite series in a row on DVR or DVD."
No higher compliment from The Times, and death to some of us. Mr. Isherwood's most exciting American play in years must surely be a cut above reruns of Sex and the City or The Sopranos. It's the favorable association with comforting TV sitcoms and juicy soaps that's meant to bestow The Times' seal of approval.
Is it any wonder our theater culture is fucked?