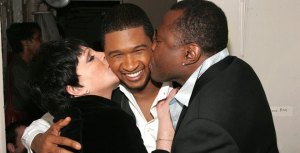 Usher might return to Broadway! Um, as his rapper sidekick Lil Jon would say on their hit single, "Yeah! Okay?" Usher is in talks to star in a revival the 1964 musical Golden Boy, based on the Clifford Odets play about Joe Wellington, a pianist who becomes a star boxer. The late Sammy Davis Jr. originated the role.
"I can't tell you the contracts have been signed yet, but Usher's interest in the show is real," says composer Charles Strouse, who, with lyricist Lee Adams, wrote the dynamite score.
"He's a rare talent. He moves so well, and he's a terrific singer. I would be the most flattered guy in the world if he does the show."
Usher proved himself an adept musical theater leading man when he stepped into the role of Billy Flynn in "Chicago" in August 2006.