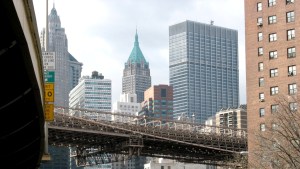 Good news for apartment hunters: Manhattan rents have dropped, especially in the financial district.
Granted, the average asking rent for apartments below 100th Street dropped by less than 1 percent in December, according to a new report from the The Real Estate Group's, but that downward trend is expected to continue into the new year.
Average asking rents dropped slightly on the Upper East Side (with the exception of non-doorman studios); Midtown East (save for doorman studios); and the Upper West Side, which now has the "city's best deal" on non-doorman studios at $1,734 per month, said the report.
Doorman-building studios in SoHo commanded the highest average rent at $2,436, and while the neighborhood is still one of the most expensive in the city, apartment rents in all other categories have dropped slightly since November. Meanwhile, rents for non-doorman studios in Grammercy Park dropped to $2,240, after peaking in November.
Overall, Tribeca and SoHo have the highest rents of any neighborhood below 100th Street. A two-bedroom n a doorman building in Tribeca rents for an averaged $6,971 for December, but it's the only neighborhood in Manhattan where rents in full-service buildings are lower than in non-doorman counterparts. Rental prices in SoHo ranged from $2,875 for a studio and $6,744 for a two-bedroom in full-service buildings.
One-bedroom rents in Greenwich Village climbed to $4,149 this month, but the average for a two-bedroom dropped to $5,498 in doorman buildings and $3,567 in non-doorman buildings.
Luxury apartment rents on the Lower East Side continue to rise with the neighborhood's gentrification, but (relatively) affordable non-doorman studios can still be found alongside the city's least expensive full-service two-bedrooms ($4,347).
Rents in Chelsea rose by $161 on average from November to December, the most of any neighborhood in Manhattan. Meanwhile, the Financial District registered the steepest decline in rents, which decreased on average of 5 percent.