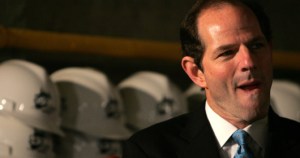 Another expensive, protracted fight in Albany between Eliot Spitzer and the powerful SEIU local 1199 over healthcare spending may be on the horizon. After Spitzer proposed slashing funds last year, 1199 ran a a slew of ads againt him.
Spitzer is in a much different place today than he was a year ago. As As Dan Janison notes, the governor is less likely to get support for the cost cuts because he's weaker than he was when elected, and he's alienated quite a few Democrats.
Norman Adler, a political consultant with many Republican clients, put it to me this way on Friday afternoon, "Most politicians would rather have a fight with Spitzer than have a fight with 1199."
When I pressed him on why he replied, "Because Spitzer doesn't generate primaries and 1199 does."