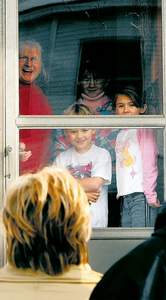 Several big endorsements dropped this weekend, perhaps most notably the Des Moines Register's choice of Hillary Clinton, which was awaited most of Saturday by the national press. Barack Obama claimed not to be surprised. The Register also endorsed John McCain, although no one seemed to care nearly as much.
The Boston Globe endorsed Barack Obama and John McCain today. Also in the region, the governor of Maine endorsed Hillary Clinton, and Carrie Budoff Brown reported that the Kennedy family is splintered on endorsements. Sources say that Joe Lieberman will endorse John McCain. Iowa Congressman Steve King will make an endorsement tomorrow.
and a non-endorsement: apparently Mitt Romney falsely claimed he was supported by the N.R.A. in his 2002 gubernatorial race on Meet the Press today.
In other news, Alex McGillis examined the Clintons' relationship with Democrats in New Hampshire, the state Hillary focused on early this weekend (after a $2 million Friday in New York) and where she spent time campaigning door-to-door.
New Hampshire is also, of course, where Hillary just lost campaign chair Bill Shaheen over comments he made about Obama's drug use. In the Concord Monitor two reporters wrote, "we wonder how many people who assume that it was a dictated move have ever talked to Shaheen," and editor-in-chief Mike Pride asked, "If Obama is the Democratic presidential nominee, will his acknowledgement that he used cocaine as a teenager be a liability?" Gail Collins, in her Saturday column, wrote that while Obama's drug use need not be a problem, he will need to know how to talk about it should he become the nominee.
Also in the Concord Monitor this weekend is an open letter from the man who held the Clinton campaign office hostage.
And Mike Pride wrote about getting into an off-the record phone call with President Clinton, against his better judgment.
Today, Hillary Clinton began her five-day Iowa "blitz."
Bill Clinton, on Charlie Rose, said that he doesn't think Barack Obama is ready to be president. On the Politico, Carrie Budoff Brown writes that Obama's "no lobbyist" pledge is not as clear-cut as it sounds.
Jeff Zeleny, writing in the Sunday Times, describes an Obama "brimming with confidence" as he heads into the Iowa caucuses. Obama's New Jersey delegates were announced, and include Newark mayor Cory Booker.
John Edwards took the cover of Newsweek, and the article says he can still win Iowa. He also launched a new ad in which he claims to have been "born for" the fight for the middle class.
Rudy Giuliani made a rare formal speech in Florida on Saturday in hopes of changing the direction of his poll numbers. The AP said the address included not much new: "a little Hillary Rodham Clinton bashing, some reflections on the Sept. 11 terrorist attacks, a call to make energy independence as big a priority as landing on the moon was in the 1960s, and the need to fight terrorism so the United States can be safe and do more business in the Middle East."
A poll out today shows Mike Huckabee passing Giulaini in Florida.
The Giuliani campaign is still cutting back, via its ad spending in Boston, though spending in New Hampshire has remained the same. The Daily News reports in a poll that woman voters choose Hillary Clinton over Rudy Giuliani by 45 percent to 30 percent.
David Seifman reports that Herman Badillo has warned Rudy Giuliani that the Republican Party is in danger of losing the Hispanic vote if they don't tone down the anti-immigration rhetoric.
Jim Dwyer questions Giuliani's claims of transparent government.
Also, Mitt Romney tells Jonathan Martin he doesn't know if he can stop his own drop in the polls before the Iowa caucus. And Adam Nagourney notes that G.O.P. voters are having a hard time falling in love this year.
Among non-candidates, Michael Bloomberg thinks the actual candidates are getting off easy, and he has a number of reasons he wouldn't run, one of which is that he doubts he can win. Diane Cardwell takes a look at who's in charge while Bloomberg was away.
On Saturday, the Bush administration ended a nationwide monitoring program for the health of Ground Zero workers, which New York lawmakers and firefighters protested.
The Daily News claims more evidence a fare hike isn't necessary.
The New York Times is really glad that New Jersey has taken steps towards striking down the death penalty.
The Times also wants the Commission on Public Integrity to change the rules, if necessary, to make sure Eliot Spitzer can release his testimony about his use of state police to spread discrediting information about Joe Bruno.