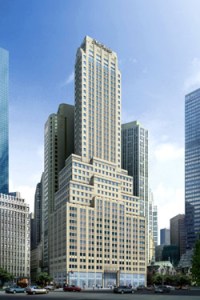 The days are numbered for New York magazine's presence on the Manhattan skyline.
The new owners of the weekly's former headquarters at 444 Madison Avenue, Westbrook Partners, are seeking a new company to adorn the three signs on the top of its 42-story prewar skyscraper, as the magazine moved to Hudson Square in August.
The distinct, loopy letters of New York have held a place in midtown's skies for about a decade, but as office tenants leave, so go their signs, allowing for a new company to splash its name among the likes of GE and MetLife.
"It would likely be an anchor tenant," said CB Richard Ellis' Paul Amrich, the lead broker leasing the building for Westbrook, which is planning to put about $20 million into revamping the property. The company just closed on the property last Friday, buying it from a group of individuals and investors for about $310 million, and now the search is on for a tenant willing to pay a premium for the sign space, Mr. Amrich said.
Should a company outside of the publishing world occupy the signage space, it would mark a historic change for the building, which was home to Newsweek for more than three decades, displaying the magazine's name alongside a clock at the building's top.
As for the fate of the signs, New York has yet to decide what to do with the giant fixtures, a spokeswoman for the magazine said. The signs belong to New York and will likely be removed at the same time that the new tenant puts its signs up, Mr. Amrich said, giving the publishing company a last gasp of skyline publicity until that day comes.
Mr. Amrich is joined by brokers Eli Gross and Hunter Kass of CB Richard Ellis in leasing out the approximately 400,000-square-foot building, which has a block of about 80,000 square feet available.