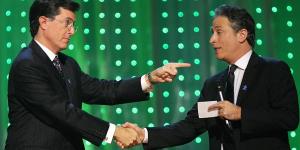 Now we can truly witness how clever Jon Stewart and Stephen Colbert are on their cable news satire shows. They'll be returning to their daily recordings on Jan. 7. The announcement arrives just days after their network predecessors announced their return to late-night on Jan. 2.
Both hosts are Writers Guild of America members. The guild, in a statement, accused Comedy Central of forcing the two hosts back to work and reiterated that the studios should resume negotiations to reach a settlement in the strike.
In a statement, the two hosts said they would prefer to return to work with their writers. "If we cannot, we would like to express our ambivalence, but without our writers we are unable to express something as nuanced as ambivalence," they stated.
Without writers, "The Daily Show" and "The Colbert Report," which are shown weeknights at 11 p.m. and at 11:30 p.m. and serve as important shows for Comedy Central, are likely to lean on unscripted interview segments. Booking guests may not be easy because some entertainers and presidential candidates have refused to cross picket lines.