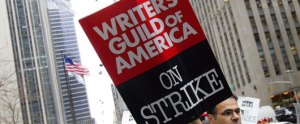 Studio negotiators were stunned when the Writers Guild of America discussed unionizing reality shows and animation, yesterday. The Alliance of Motion Picture and Television Producers had thought those topics were off the table, according to the Associated Press.
Variety is reporting that the union is now facing the prospect that the studios will grow impatient with the molasses movement of negotiations and make a "take-it-or-leave-it offer" as early as next week.
Little progress emerged from Thursday's talks, with both sides meeting briefly in the morning, followed by WGA negotiators waiting most of the day for the companies' response in two key new-media areas — Intenet downloads and jurisdiction.
Neither side issued a statement at the end of the day other than confirming that negotiations will resume in the ayem today for the fourth straight day. But time's starting to run out, partly due to the looming holiday season with Christmas and New Year's Day falling midweek and essentially wiping out any chance for the sides to meet for those two weeks — should they still be negotiating.