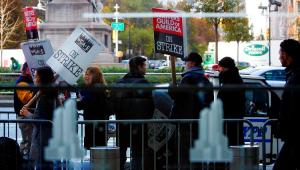 The WGA will make the "legal demand" today to change the dynamic in its stymied contract fight by seeking talks with individual studios rather than through the umbrella Alliance of Motion Picture and Television Producers bargaining unit, according to Variety.
It's highly doubtful that any of the majors will be willing to engage in individual talks with the guild, given the unanimity of the CEOs' disdain for the guild's stance in the bargaining room and tactics during the now six-week-old strike. Nor would the seven largest members — CBS Corp., Disney, NBC Universal, News Corp., Sony Pictures, Time Warner and Viacom — likely be willing to give up their collective leverage by bargaining individually.
Still, WGA said it believes the AMPTP's group structure "inhibits individual companies pursuing their self-interest in negotiations" and that "the internal dynamics of the AMPTP make it difficult for the conglomerates to reach consensus and negotiate on a give and take basis."