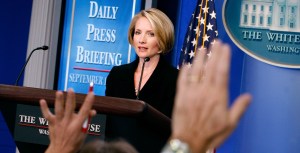 It's been a while since we've had a good Bush-administration-vs.-New–York–Times flare-up. But today the White House took the unusual step of issuing a public statement demanding that The Times retract the subhed to a front-page story in today's paper.
The Times reported today that four White House lawyers were more involved than had previously been acknowledged in the CIA's destruction of interrogation tapes. The story's subhed read: "White House Role Was Wider Than It Said."
In a statement, White House Press Secretary Dana Perino said: "The New York Times' inference that there is an effort to mislead in this matter is pernicious and troubling, and we are formally requesting that NYT correct the sub-headline of this story." She went on to say that the White House has simply refused to comment on the matter, meaning it hasn't said anything intentionally misleading.
I have to say, I don't quite follow the White House's logic here. Not to split hairs, but if the White House hasn't said anything on the subject, and The Times, citing new evidence of White House involvement, as detailed in today's story, asserts that the White House's role was "wider than it said," then it would appear that The Times hasn't written anything that requires correcting. The obvious meaning of the subhed is that the White House's role was more extensive than it has yet admitted. Which, if today's story is accurate, is true.
Still, the White House obviously couldn't deny the story's substance, or it would have. So perhaps this was the best response it could come up with.
UPDATE: The Hill reports:
Catherine Mathis, senior vice president of corporate communications for the newspaper, stated that the sub-headline has been changed, adding that a correction would be printed. However, Mathis also pointed out that the White House did not challenge the contents of the article.