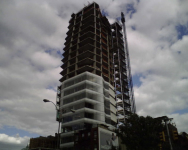 Lodging blog Hotel Chatter today has compiled a preview of the "most buzzworthy" hotel openings for 2008 and discusses each one's chances for actually opening on time.
Among them: The Cooper Square Hotel near Astor Place, slated to open this coming spring. Given neighborhood concerns and "rumored falling out between developers/hoteliers Gregory Peck and Matthew Moss," the oddsmakers expect delays until August.
The oddsmakers also cast doubt on Jason Pomeranc's Thompson Smyth Tribeca on West Broadway, scheduled to open next summer. "With Thompson opening two more hotels in NYC in early 2008 … will this Tribeca property fall behind? …. All answers say a delay is inevitable."
Why so skeptical?
"Last year, our opening picks performed poorly," according to the blog, which points to Andre Balazs's Standard New York and Mr. Pomeranc's Thompson LES as delinquents. "With the exception of Six Columbus, none of the other hotels featured opened."