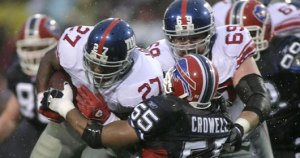 Call it a pre-Christmas miracle, but the 10-5 Giants are now a playoff lock after overcoming four turnovers to win a windy, rain-soaked game 38-21 in Buffalo.
Most importantly, the Giants rediscovered their identity, which they misplaced after their six-game winning streak earlier this season. The Giants defense, helmed by imaginative coordinator Steve Spagnuolo, returned to a constant blitz, something they haven't had much success with in their past three games, when they lacked the pressure to force turnovers.
In the first quarter, the New York defense's timing appeared to be rusty. Spagnuolo sent blitzes from cornerback Aaron Ross, as well as two rushes from safety Michael Johnson. Somehow, Bills quarterback Trent Edwards eluded the pressure and was able to get a touchdown completion to Marshawn Lynch on a screen pass.
On the Bills second drive, the blitz came from Edwards's blind side, but it left cornerback Corey Webster in one-on-one coverage on Roscoe Parrish, who made a spectacular diving catch for a 42-yard gain that led to another Buffalo score. Though Buffalo at first foiled Spagnuolo's strategy, he knew the Giants had a rookie quarterback in their crosshairs and he didn't allow them to let up.
With their adrenaline running high, three Giants were flagged for offsides penalties as they tried to jump on Edwards quickly, including one miscue from an overly excited Antonio Pierce. In the second quarter, Spagnuolo's creative mix of pressures finally began to take effect. Underrated linebacker Kawika Mitchell (who later forced a fumble by Edwards) sacked the Bills' rookie for an 11-yard loss. Even when Buffalo had a second-and-21 situation with under two minutes left in the second quarter, Spagnuolo sent Aaron Ross on a corner blitz that forced Edwards to get rid of the ball. New York smelled blood.
What truly spoke volumes were New York's decisions early in the third quarter. With the offense sputtering at the goal line down after down, Tom Coughlin decided to go try for the lead with a play on fourth-and-one. Despite Reuben Droughns' failure to get into the end zone, Coughlin took the risk because he trusted the Giants defense to continue the pressure and make plays. Sure enough, Buffalo went three and out and punted, giving New York great field position.
The glaring number that came out of the Bills game could be the 291 yards gained by the Giants on the ground, pointing to the emergence of Ahmad Bradshaw as a sidekick to Brandon Jacobs. But with Eli Manning forcing throws into coverage for turnovers and watching helplessly as the ball slipped out of his hand when he cocked his arm to throw, the Giants accept that they'll win games by forcing turnovers, just as they did yesterday toward the end of the fourth quarter as Sam Madison and Webster caught interceptions off blitzes. Whoever the Giants face in the first round of the playoffs, they must take what they learned from their victory in Buffalo and continue to blitz.
No wonder Spagnuolo received a well-deserved Gatorade bath. If he can continue to engineer these kinds of defensive performances in the post-season, the Giants might be more than a one-and-done playoff team.