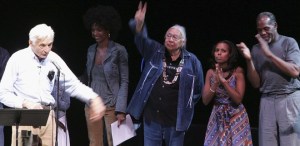 Howard Zinn's A People's History of the United States, also known as the Hipster's First Anti-Establishment Manual, will finally come to the small screen, according to Variety. Production will begin next month in Boston. Mr. Zinn will host the four-hour miniseries and Matt Damon, Marisa Tomei, Viggo Mortensen, Danny Glover, Josh Brolin, David Strathairn, Kerry Washington, Eddie Vedder and John Legend will all read passages from Mr. Zinn's 1980 best-seller.
Damon, who lived next door to Zinn as a child, and Ben Affleck included a reference to Zinn and "A People's History" in their Academy Award-winning "Good Will Hunting." Soon thereafter, the scribes and [Executive producer Chris] Moore (also a "Good Will Hunting" producer) sold a 10- to 12-hour miniseries to Fox based on the book.
"A People's History" was slated to run on Fox in 1999, but that didn't happen; later, HBO developed a three-part version but eventually passed as well.
The new adaptation will draw from both "A People's History," and sequel tome "Voices of A People's History of the United States," which Zinn wrote with Arnove. Miniseries will center on the actors and musicians as they read from the books or perform music related to their themes: the struggles of women, war, class and race.
The longform will mix the performances with photos, interviews and archival footage.
"This project is about Howard Zinn, his books and using that body of work to remind and inspire us all that this is a country built on dissidence," Moore said. "Howard's work deserves to be on film, and it is time that we paid tribute and captured the struggles of the people."