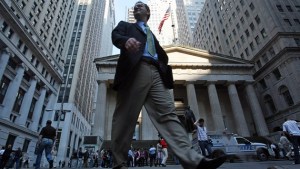 The average Wall Street bonus in 2007 dropped 4.7 percent from 2006, snapping a string of record year-end paydays for the city's most important private industry. The average Wall Street bonus was $180,420 in 2007, according to a statement released on Thursday from State Comptroller Thomas DiNapoli's office.
Wall Street's largest financial services firms paid an estimated total of $33.2 billion in year-end bonuses in 2007, 2 percent less than the record $33.9 billion paid in 2006.
The total bonus amount also set records in 2003, 2004 and 2005.
Wall Street bonuses are often used as a barometer for New York City's overall economic health. The residential real estate industry, in particular, looks to the bonuses as an indicator of how home sales will go in the following year.