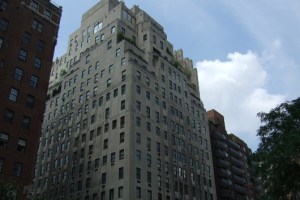 In the midst of the worst economic crisis in six decades (according to George Soros), the tip-top of Manhattan's high-end did awfully well yesterday.
A source said that the 17-room, seven-bedroom duplex penthouse at 1060 Fifth Avenue closed for $46 million, as The Observer had promised. The insane catch is that the buyers–hedge-fund star Scott Bommer and his wife, Donya, an ex-anchor for Good Day Philadelphia–will have to spend more money on actually combining the penthouse's two units into a real duplex.
"Putting in a staircase is not a big thing," the seller, Georgia Shreve, told me late last year. And when asked if $46 million was a lot to pay for an uncombined penthouse, she said: "Not really."
The listing brokers, Brown Harris Stevens managing directors John Burger, Fritzi Kallop and Mary Rutherfurd, must be having a good week.
Meanwhile, I reported yesterday that the Brooklyn-born Hummer billionaire Ira Rennert will buy one $35 million Park Avenue apartment for one daughter, and another duplex at 740 Park Avenue for a second daughter, paying about $32 million there.
According to a source, his daughter Tamara just passed the co-op board at super-posh 740 Park. Congratulations, ma'am.
But these deals raise this question: Can prices keep going like this? "It's too expensive in Manhattan," Yale economist Robert Shiller told me last week. "There's no reason why we can't have a brand-new [Manhattan] somewhere. We just have to build it, plan it all out, a planned city, put it somewhere where land is really cheap, on the coast somewhere with a good location."