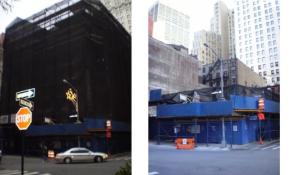 Ravenous hotel developer Sam Chang continues to devour buildings in the Financial District.
Just a month ago, 99 Washington Street, site of Mr. Chang's forthcoming 350-room Holiday Inn, was still standing–albeit shrouded in a death-black curtain (pictured left).Over the past several weeks, crews have dismantled almost the entire building (right).
Next up to come down: 50 Trinity Place, just one block away, site of an unnamed 186-room McSam hotel. (The demolition permit was issued Jan. 12.)
Both hotels are scheduled for Mid 2009 opening.