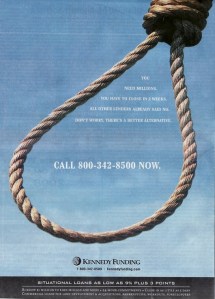 We got the new issue of Real Estate Weekly today. The full-page ad on the back (right) from Kennedy Funding struck us initially as a remarkably tasteless play on the remarkably tasteless Golfweek cover earlier this month.
Then we read the ad.
You need millions. You have to close in 2 weeks. All other lenders already said no. Don't worry, there's a better alternative.
Could the ad be directed at the embattled Harry Macklowe, who owes his creditors some serious answers in the second week of February (e.g., roughly two weeks from now)? Let's hope so.