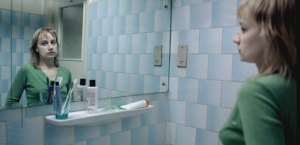 4 MONTHS, 3 WEEKS AND 2 DAYS
Running Time 113 minutes
Written and Directed by Cristian Mungiu
Starring Anamaria Marinca and Laura Vasiliu
Cristian Mungiu's 4 Months, 3 Weeks and 2 Days, from his own screenplay, continues the Romanian cinematic renaissance that followed the overthrow of the Stalinist regime and its repressions in 1989. This film's odd title refers to the duration of a pregnancy before it is belatedly aborted in a gruesomely back-alleyish procedure that leaves very little to the imagination.
The action begins in 1987 in a college dormitory where two roommates, Otilia (Anamaria Marinca) and Gabita (Laura Vasiliu) are packing as if they are going on a long trip. We soon learn that Otilia has arranged an illegal abortion in a dingy hotel room for Gabita, to be performed by a loathsome specimen of humanity played with zestful villainy by Vlad Ivanov. Curiously, the eventual protagonist of the piece turns out to be not Gabita, the girl who is undergoing the abortion, but Otilia, the girl who arranges it for her friend. The brutish abortionist demands Otilia's body as payment for his services, and she reluctantly pays it, and this disgusting indignity turns her stomach afterward.
Once the procedure is performed, Otilia begins wandering across desolately despairing streets, first to a boring birthday party for her boyfriend's upscale mother and her government cronies, and then, after she rejoins Gabita, to dispose of the blood-soaked fetus so that it cannot be traced back to Gabita. The birthday party itself proves to be a nightmarish experience for Otilia on a class level, as she realizes that her boyfriend will never be allowed to marry her. One wonders if Romanian class distinctions would miraculously vanish two years later with the downfall of the Communist dictatorship. From Italian neorealism onward, every realistic film has been as much about the present as about the past. Hence, as I watched Mr. Mungiu's work, I had the feeling that, thanks to its palpable location realism, certain aspects of Romanian life have not become idyllic in the two decades since the removal of the Communist overlords.
Indeed, what saves the film from a too facile censoriousness toward a supposedly bygone era is the very human and timeless fallibility of the two young friends. If I recommend the film to my readers as strongly as I do, it is not simply because of its social significance, especially as a powerful argument against the right-to-life movement, which would return us to a period of back-alley abortion that once afflicted Romania under Communist rule.
But we really don't need Communists or other totalitarians to overturn Roe v. Wade when a prominent Republican presidential candidate is out campaigning for Constitutional amendments banning all abortions and same-sex marriages. It is not surprising, therefore, that, as rumor has it, the Academy of Motion Picture Arts and Sciences has refused to consider 4 Months, 3 Weeks and 2 Days even for its shortlist of contenders for the foreign-language film Oscar, even though it was clearly one of the best movies of the year from any country—if only for the more-than-Oscar-worthy performance of Ms. Marinca as the very troubled conscience of Mr. Mungiu's undeniably disturbing masterwork.