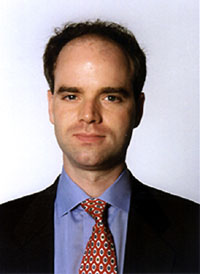 BEIJING—"I think it's actually surprisingly easy for Americans to come here and feel like they can fit in," Joseph Kahn said, sitting in a coffee shop called Sequoia, a block north of the gate of the Jian Guo Men Diplomatic Compound. It was late December, and Mr. Kahn was nearing the end of his Pulitzer-winning tour of duty as The New York Times' Beijing bureau chief. On Dec. 31, The Times named him deputy foreign editor, a job that will require him to relocate to New York.
The first time Mr. Kahn was sent home from Beijing as a reporter was in 1989. When the Tiananmen Square protests began, he was in Hong Kong, doing graduate work in East Asian studies. Mr. Kahn entered the mainland on a tourist visa and began working as a stringer for The Dallas Morning News. After the crackdown, the authorities revoked his visa and ordered him out of the country within 72 hours.
"A bunch of people were put on a plane," Mr. Kahn said.
Mr. Kahn would return, properly credentialed, in 1993, once more stringing for The Dallas Morning News. From a base in Hong Kong, he made reporting trips to a capital city he recalled as having an "almost frontier-socialist feeling." Foreigners were restricted to living in three compounds, one of which was Jian Guo Men. "The community of journalists was smaller, and the area that they could live in was tiny," Mr. Kahn said.
Now there is a Hooters. Expatriates are dispersed around the city, and the days of constantly bumping into diplomats have passed. Mr. Kahn owns an apartment near Chaoyang Park, in a complex called Park Avenue. "It's next to Palm Springs," he said.
The dynamic new China, Mr. Kahn said, has on its surface striking similarities to America: "They have roads and they have cars and they have real-estate speculation and they have a stock-market bubble," he said.
But beneath that, he said, is a country that still confounds American assumptions. Mr. Kahn got a preview of the current Beijing boom in the early 90's, when The Wall Street Journal sent him to be the first American reporter stationed in Shanghai since the revolution. The city had been designated China's first financial center, but there were still farmers to interview in the Pudong district; the futuristic skyscrapers that now define the neighborhood were only beginning to move off the drawing board.
Mr. Kahn said he searched Shanghai in vain for the kind of bottom-up entrepreneurship Americans believe is essential to a growing economy. Instead, he said, he found a sketchy stock market—"it was just a casino"—and a bunch of old-fashioned state-run enterprises.
"You had a kind of bureaucratic capitalism at work," Mr. Kahn said.
And by the time he left, in 1996, Shanghai was beginning to flourish. The belief that the free market breeds prosperity, and that prosperity in turn breeds freedom, wasn't much help in explaining the events on the ground.
"They've managed to do just fine as an authoritarian regime while creating a lot of wealth," Mr. Kahn said.
Mr. Kahn returned to China, for The Times, in 2002. By then, he said, Beijing had caught up with Shanghai's pace of change, and possibly surpassed it. And the days when Foreign Ministry briefings and press tours had the monopoly on news were over. It had become possible to go visit people and do interviews without necessarily triggering a crisis.
"Beijing doesn't feel open and easy to me in an absolute sense," Mr. Kahn said. "But in a relative sense it felt a lot better."
The press corps itself has been changing. The paper that first sent Mr. Kahn to China, The Dallas Morning News, has now abandoned its Beijing bureau. So have The Baltimore Sun, The Boston Globe, and The San Jose Mercury News, as a whole class of American dailies has gotten out of the foreign-coverage business. "They used to be really good jobs, because they didn't have a really strong interest in the daily news story," Mr. Kahn said. The writers, he said, were free to roam around the country looking for features.
Numerically, Mr. Kahn said, the loss of those jobs has been offset by the growth of the wires, particularly the financial wires. Bloomberg and Reuters have brought in dozens of reporters to cover Chinese business. "Now, if you've got some language skill and some talent as a reporter, you can probably start on the wires more easily," Mr. Kahn said.