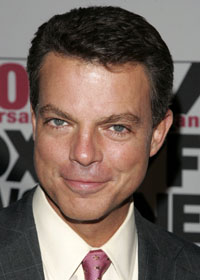 Recently, Shepard Smith stood in his office at Fox News and gestured at a football, on his bookshelf, signed by Giants quarterback and fellow University of Mississippi alumnus Eli Manning.
"I've met him a number of times," said Mr. Smith. "He's a private guy. He's likes to stay to himself. Eli, as a friend, would be weird. I like him being my quarterback."
It was Friday afternoon and Mr. Smith—the host of Fox News' Studio B, anchor of the The Fox Report, and possibly the highest-paid on-air talent in cable news history—was giving NYTV a tour of his office. Ole Miss madness was the decorative theme. A Rebels welcome mat warmed the entrance. Commemorative Ole Miss coins sat alongside bowl-game souvenirs. A framed photograph of Mr. Smith and his younger brother, pregaming under the oak trees on the Ole Miss campus, hung on the wall.
Mr. Smith, who is 44 and has a head of spiky brown hair and blue-green eyes (a darker hue of what Katie Couric might call "husky blue"), sat back down on his office couch. Mr. Smith said he grew up in Holly Springs, Miss., idolizing Eli's father, Archie Manning, who was a star quarterback for the Rebels during the late 60's and early 70's. "I've been thinking about Archie's kids coming to Ole Miss since I was a baby," said Mr. Smith. "Archie was on the wall next to Cheryl Tiegs."
Mr. Smith explained that later this week he will fly to Glendale, Ariz., site of Super Bowl XLII, where he will interview Archie Manning about all things Eli. Afterward, Fox News' executive producer of political programming Marty Ryan will splice the highlights into Super Sunday—an experimental football-and-politics spectacular that Mr. Smith will be hosting for Fox broadcast stations, around the country, on the morning of Eli's big game.
The three-hour special, said Mr. Smith, will begin with politics and ease into football. Along the way, Chris Wallace will interview presidential candidates. Alexis Glick, of the Fox Business Network, will assess the state of Super Bowl ads. Fox station reporters will file dispatches from the campaign trail. And Mr. Smith will report from behind-the-scenes as members of Fox Sports prepare for kickoff.
"There's technology being used now that has never been brought together before," said Mr. Smith, who is an outspoken admirer of flashy news graphics and shooshy special effects. "I'm kind of a techno freak. So that'll be fun."
Even those at Fox who don't necessarily know Eli Manning from a Waffle House booth jockey can still feel gung-ho about the upcoming News Corp. synergy.
Sharri Berg, the senior vice president of news operations for Fox television stations, said the collaborative programming grew out of previous teamwork between the Fox News Channel and the Fox-owned and -operated stations during the midterm elections of 2006. "We have a mechanism to share all of our live and taped content on a daily basis," said Ms. Berg. "So we have the infrastructure. It was just a matter of getting all these people working together on one day."
According to Ms. Berg, Fox News and the stations will split the responsibility for selling ads for Super Sunday—an arrangement that gives financial incentive to both parties.
Paul Rittenberg, the head of ad sales for Fox News, said the extravaganza has provided an opportunity for the stations, particularly in contested states, to sell even more political advertising on the eve of Super Tuesday. "To some extent, from the business point of view, that's what drove this show," said Mr. Rittenberg. "The most important goal for the affiliates and our own stations is to look for ways to maximize their political dollars."