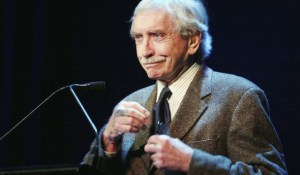 Two-time Tony-winning playwright Edward Albee will direct two of his early one-act plays at the Cherry Lane Theatre this spring. Mr. Albee's The American Dream and The Sandbox will be staged at the Off-Broadway theater March 11-April 19 with an official opening March 25. Both productions will feature Tony Award winner Judith Ivey, Drama Desk Award winners Myra Carter and George Bartenieff as well as Kathleen Butler and Harmon Walsh.
Written in 1959, The Sandbox, press notes state, "introduces one of America's most dysfunctional families, a grasping, materialistic married couple who stage a perverse seaside idyll destined to end in the demise of the wife's aged mother. In this pioneering work, Albee manipulates clichés of language and social mores, breaking the fourth wall and purposefully destroying the audience's illusion of passive observation of the action of the play."
American Dream, written in 1960, "continues the story of The Sandbox's Mommy and Daddy. It is a ferocious, uproarious attack on the substitution of artificial for real values, a startling tale of murder and morality that rocks middle-class ethics to their complacent foundations. In it, Albee explores the hollowness of the American dream, as well as the fallacy of the ideal American family."
Bartenieff will play Daddy with Butler as Mrs. Barker, Carter as Grandma, Ivey as Mommy, Walsh as the American Dream and Williams as the Angel of Death (in The Sandbox).
Albee will take part in audience discussions following the March 18 and April 8 performances.