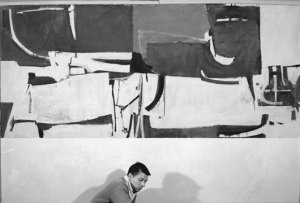 "Diebenkorn in New Mexico" is, as its title makes plain, an exhibition about place as much as it is about art. The degree to which geographic specificity determines the character of a work may be a moot point—for some, the globe-crossing verities of our technological age have all but trumped the local. The smoky and sometimes rambunctious paintings on display at N.Y.U.'s Grey Art Gallery are, in that light, antiquated.
But you don't have to be a technophile to question the artistic viability of the work Diebenkorn created while earning a Master's Degree at the University of New Mexico. With their encompassing fields of color, searching line, surface agitation and improvisatory tack, they point to the New York School. De Kooning, Rothko, Gorky, Clyfford Still and William Baziotes tower over the young Diebenkorn's efforts. The paintings are grateful for precedent, but dusty with it, too.
Diebenkorn, who died in 1993 at the age of 71, never registered as a second-generation Abstract Expressionist. A direct connection with New York City was one of the designation's primary litmus tests. Diebenkorn flirted with moving to Manhattan, but settled on the West Coast. He was (and continues to be) pegged as a "California painter"—a geographically accurate but condescending description.
Diebenkorn was out of the swing of things, at least after his pivotal immersion in Abstract Expressionist principles. Notwithstanding a lovely set of paintings on cigar box lids, hardly a Brillo box maneuver, Diebenkorn's art is devoid of references to mass culture. What to do with an artist whose interests set him apart from the reigning aesthetic? For many years, a Diebenkorn painting was displayed in MoMA's stairwell—an "oh, by the way" painter worth knowing, but only in passing.
Needless to say, that isn't the opinion of the organizers of "Diebenkorn in New Mexico." Curator Charles Strong describes Diebenkorn as "brilliant." Charles M. Lovell, former director of the Harwood Museum of Art in, yes, New Mexico, describes him as "one of the twentieth century's most important artists." Gerald Nordland, Diebenkorn's biographer, claims the "creative giant" as "among the most original of all modern artists."
Cheerleading is typical of exhibition catalogs, but that doesn't mean you'll come away from "New Mexico" convinced by the enthusiasm. Diebenkorn's AbEx phase was a necessary pit stop to the Ocean Park pictures, an elegantly scrabbled suite of paintings that commingle geometric scaffolding and vaporous trails of Matissean color. Named after the Santa Monica neighborhood Diebenkorn lived in for many years, the pictures, with their cleansing light, are essentially landscapes embedded within a scrim of painterly incident.
The New Mexico pictures are surreptitious landscapes as well. Though peppered with strong pinks, oranges and the stray green, the paintings are rich in wan ochres, scrubby browns and dry off-whites—desert colors. The canvases are warm and expansive. Diebenkorn had an almost visceral reaction to the landscape's grit and aridity. Looking at the paintings, we feel his response in our bones.
Line is an indispensable part of the paintings and courses through the compositions with wiry purpose. Diebenkorn had specific ideas about its function: Line should define shape, establish itself as an independent entity and serve as pictorial girding. De Kooning was the obvious referent—"The way he used that line," Diebenkorn exclaimed, "that was really it for me!" Diebenkorn's line moved with similar, if less libidinal, vigor. It traverses wide planes with speedy concision, meanders as if in a daydream, glides into arabesques and evaporates as quickly as it appears.
Broad humor pops up in the paintings, and surprisingly so—Diebenkorn's oeuvre doesn't exactly brim with jokes. Stubby, bulblike forms stand at attention or escape from the parameters of the canvas. Niggling forms huddle up against clueless monumental slabs. A zigzagging line turns pliant in an eye blink. An anxiety-ridden cousin of Klee's twittering machine churns and clanks within a frazzled expanse of creamy tones.
In Diebenkorn's ink drawings, humor becomes farce; their sprightliness makes the paintings seem sludgy and staid. Cézanne-esque doubt marks the painter; crazy vigor the draftsman. Where in hell is that line zooming? The thrill is that it doesn't know and, one intuits, neither did Diebenkorn. In his hands, Miró and Gorky are transmogrified into Daffy Duck—sophistication becomes slapstick. The drawings teeter with headlong elan.
The true surprise of "Diebenkorn in New Mexico" is a sculpture—a rickety steel armature that attempts to give body to Diebenkorn's line and ends up looking like a militaristic praying mantis. It's not much more than the dabbling of a painter curious to see how the other half lives. But the work is of a piece with the exploratory exuberance of the exhibition. Think of the New Mexico paintings as the work of an artist sowing his wild oats before settling into hard-won mastery. In that sense, "Diebekorn in New Mexico" is both a tease and a wild ride.
"Diebenkorn in New Mexico" is at N.Y.U.'s Grey Art Gallery, 100 Washington Square East, until April 5.