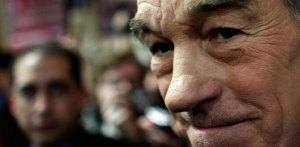 At the Ron Paul headquarters in Concord this afternoon, 16 volunteers were phonebanking.
"We're not getting anyone who says 'I don't know who Ron Paul is,' the situation we were in four or five months ago," said a young volunteer named Chris. "We're looking to place well, in what they call the top tier."
Among the volunteers was Logan Darrow Clements, who ran for governor of California in the recall election of 2003. He had flown in last night from California. He said his project over the next two days was to let "the wishy-washy people know there's a real movement afoot."
He said that he had had to move his politics a bit to fit in with Paul. "I'm an Objectivist," he said. "I'm a little more hawkish than he is."
"If there's someone who's got his hands free to carry these into my S.U.V., that'd be great," he said to the room.
He was moving some eight-foot-long Ron Paul signs.