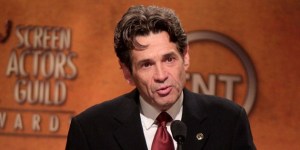 NBC executives have emerged from their Sunday night sweat-lodge, in which an answer was sought as to how they might telecast the Golden Globe awards without brining an angry storm of controversy upon their tribe.
Screen Actors Guild president Alan Rosenberg announced on Friday afternoon that not one of the more than 70 actors nominated for a Golden Globe will attend the Jan. 13 ceremonies because of the W.G.A.'s plans to picket the event. And now, after weeks of pleading with actors and wringing their hands, the network and the Hollywood Foreign Press Association is expected to make an announcement about their final decision midday today, according to Variety. We'll keep you updated.
There were indications that the network was giving serious considering to stepping aside and allowing the ceremony to go on without being televised and thus without WGA pickets outside the Beverly Hilton. But because of the significant financial hit the loss would mean to the network, it's understood that NBC brass were still mulling scenarios on Sunday for salvaging some form of telecast around the awards.
The Globes have been thrown into turmoil and uncertainty due to the WGA's refusal to grant a strike waiver to struck Globes producer Dick Clark Prods., which offered to accept the same terms as David Letterman's Worldwide Pants banner. Instead, the guild has said it will picket the Globes, skedded to air on NBC, which has become a prime target of the WGA's strike campaign in the past few weeks.