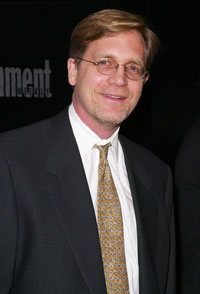 As weeks turn into months, the Writers Guild of America's strike is taking a toll on some editors and reporters at major newspapers and weekly magazines.
At The Los Angeles Times, the strike's decimating effect on awards season, normally a topic of banner coverage, was described by one editor as "apocalyptic." Though advertising numbers are still being sorted out, this editor estimated that the cancellation of the Golden Globes fete meant the loss of "hundreds of thousands of dollars" for its awards-related Web site, The Envelope. (A spokeswoman for the paper said that this figure was "completely inaccurate." She acknowledged that traffic on the day of the Globes was "way off" compared to last year, but said that page views in general were up 40 percent from 2006 to 2007.)
Over at The New York Times, reporter-cum-entertainment blogger David Carr, a.k.a. "the Carpetbagger," couldn't help but notice that enthusiasm and volume in the comments section had shrunk from last year. Sniff!
And the content shortage doesn't stop at the rolled-up red carpets. "My anxiety is increasing with each passing day," said Michael Ausiello, the wunderkind blogger for TV Guide. "Three months from now, Lost will be gone and all those shows that are on the air will run out of original episodes. It's going to be a scary landscape soon. I hope it doesn't come to the point that I'm giving spoilers on Big Brother."
Perhaps the hardest-hit publication is Entertainment Weekly, the popular version of an industry bible. "It would be nice for the strike to end soon," said an editor there. "There are things we normally cover that are diminished. It's tougher to do trend pieces when there's so little in development, especially where TV is concerned, with all these shows running out. You find yourself scrambling to cover what's actually on TV."
The WGA conflict only has so much juice in it, he said. "It's not a sexy story. Nothing about it is sexy. Stories about unions aren't a big sell for anyone."
But EW managing editor Rick Tetzeli said that the situation was merely forcing his staff to think more creatively. "The cover we're closing tonight is a strike survival guide, with Conan on the cover," Mr. Tetzeli said on Tuesday, Jan. 15. "It's the short opening, and it's very, very funny. We've got about 35 tips for surviving the strike. We tell people to go read books and telling them what books to read, and why this is the time to watch Rachael Ray." Yum-o!
And there are those who insist the strike is a fascinating story to cover. "Interesting news makes newspapers more important," said Peter Bart, the editor of Variety. "The impact of the strike is terrible, but selfishly, in terms of impact to the paper, it hasn't been terrible." He added that the business side was doing just fine. "I just happened to pass the advertising guy coming back from lunch and he said the studios are still taking out big congratulations ads after the Golden Globes."
Mr. Carr of The Times agreed: "I'm a newsman so I find this strike fantastically interesting."
But everyone interviewed for this item said that if there is no resolution by spring, it's going to get ugly. Indeed, material is already getting so scarce that Mr. Ausiello recently wrote about an Al Roker-produced show on the Spike network about the Drug Enforcement Agency. "It's a story I generally wouldn't touch with a 10-foot pole," he said. "I had to apologize to my readers."