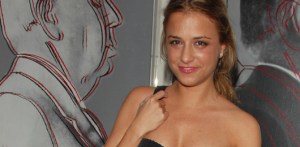 Last night brought together a spirited mix of New York's cutting-edge fashion designers and artists—young representatives from two industries that are impossible to keep apart these days.
Designer Philip Lim, model Jessica Stam, stylist Kate Schelter, Vogue's Stephanie LaCava, socialite Genevieve Jones, men's wear designer Thom Browne and supermarket mogul Ron Burkle were among the revelers swirling around the Max Lang gallery in Chelsea—a smallish, brightly-lit, bi-level space on Tenth Ave. It's where French shoemaker Repetto was celebrating its 60th anniversary traveling exhibition and the launch of their eponymous charitable foundation.
It had been nearly two months since we last ran into Charlotte Ronson, the fashion designer-socialite daughter of Ann Dexter-Jones, so we stopped by for an update. Ms. Ronson, wearing a bohemian-chic ensemble of her own design over knee-high brown leather boots, said she was a little worn out after having spent the entire day at a trade show.
But she's also been keeping busy getting her Fall 2008 collection ready to show. "It's kind of a little Jane Birkin, I'd say. Just that style of sixties-seventies music, France—it's a bit of…" Ms. Ronson said of her forthcoming collection's aesthetic, trailing off in a way that remained descriptive.
Though she looked to Ms. Birkin, a reigning doyenne of French fashion, to create her Fall collection, Ms. Ronson said she draws inspiration from famous figures every season. Old movie stars like Brigitte Bardot and Audrey Hepburn, she told The Daily Transom, are tireless muses. Ms. Ronson looks up to more contemporary style icons, too—namely Kate Moss, who, she added, "made [fashion] all about making it your own. With her, it's not about labels."