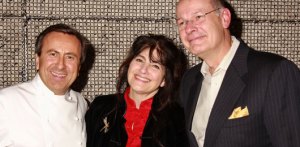 Last night Gourmet held a party at Bar Boulud and Calvin Trillin was sweating it out in the kitchen.
"I just came from a memorial service," he said. He was drinking a glass of water to relieve himself from the unbearable heat. A stunning bald man dressed in a perfectly tailored suit approached him.
"Mr. Trillin," he said, "We haven't seen each other in a year, but thank you so much for the book about your wife. It made me cry so much."
"Thank you," he replied. Mr. Trillin turned to Media Mob and said that conversations like that don't happen that much since he doesn't leave Greenwich Village. A few feet away, Page Sixer Paula Froelich was posing for a picture solo. Mr. Trillin took a close look and a final swig from his water and escaped from the kitchen.
Upstairs, Gourmet editor Ruth Reichl was entertaining a few writers from The Sopranos and talking about their relaunched Web site, gourmet.com.. She said that she loves parties like this.
"People think to run a magazine like this you need the endless appetite," she said. "All you need is to be able to hold the eight-hour conversation."
She said she was capable of this and promised that she would be the last person standing at the party (Media Mob stayed well past the scheduled ending time of 10:30, but didn't last as long as she.)
Holding court a few feet away was the Page Six clan of Richard Johnson, Braden Keil and Ms. Froelich at a diner-style booth; Post foodie Steve Cuozzo was standing nearby with his wife.
The Posties were having an animated conversation, which at one point elicited a purring noise, like one Eartha Kitt would make (Media Mob didn't catch who was responsible for this). Sitting a few booths down was the CBS anchor Harry Smith, who explained that he rides a bike from his Upper West Side home to the Early Show studio. He said he doesn't wear a helmet, but then again, no one does.
As the night wore on, and as guests switched from red and white wine to hard liquor, the conversations were noisier.
"Doc is so fucking cool!" said the chef David Chang, recently of Momofuku. He was speaking to John Willoughby, the executive editor of Gourmet, whose nickname is apparently Doc. Doc politely listened to Mr. Chang.
"Doc is so fucking cool," he told Media Mob and Doc. "Who do you know who has the fucking nickname Doc? If I had an nickname I would want it to be fucking Doc. How cool is Doc? I'm fucking Doc! How did it happen?"
The group seemed to take the question to be rhetorical, and anyway, it was time to go.