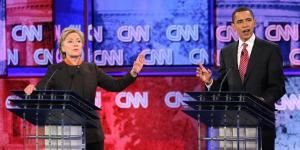 MYRTLE BEACH, S.C. — Wow. The exchanges at the Democratic debate here in Myrtle Beach tonight have been absolutely poisonous. There have actually been repeated gasps in the press filing center as Hillary Clinton and Barack Obama basically insulted each other without pause for 15 minutes.
CNN promises a transcript, but in the meantime, here are some of the highlights, or low points, depending on your view.
It really started to spiral when Obama said that Clinton, and former president Bill Clinton had made a concerted effort to say things about him that were not " factually accurate," particularly in seeking to cast doubt on the consistency of his position against the war in Iraq, and said that the country was looking for someone who would consistently tell the truth.
Clinton responded that his record was fair game, and then brought up Obama's recent remarks about Republican ideas. She said that the Republican ideas "were bad ideas." She then said that he was essentially dishonest in putting forward policy proposals that he did not pay for. "You have a lot of money that you want to put into foreign aid," she said, adding "but there is no evidence of how you'd pay for it."
She then hit Obama again for not consistently opposing the war once he had actually entered the senate.
As Edwards looked on helplessly, Obama told Clinton that he would provide Hillary with information on how he paid for his proposals and then tried to clear his name on the Ronald Reagan accusation, which is when things got genuinely tense.
They spoke all over each other about Reagan and Republicans and the results of Republican laws when Obama offered this: "While I was working on those streets watching those folks see their jobs shift overseas, you were a corporate lawyer sitting on the board of Wal-mart."
They then tussled some more, with Blitzer impotently trying to interject when Clinton again went back to the issue of praising Reagan.
"Your husband did," Obama said.
"Well, I'm here. He's not and…"Clinton said.
"OK. Well I can't tell who I'm running against sometimes," Obama rejoined.
The bickered some more and then Clinton went and pressed the emergency button: "I was fighting against those ideas when you were practicing law and representing your contributor, Rezko, in his slum landlord business in inner-city Chicago," she said.