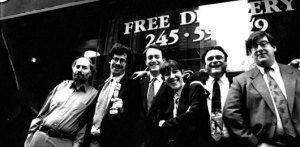 "It would be like instead of re-imagining Eustace Tilley, David Remnick decided to behead him," David Hirshey said. He was talking about Esquire's decision to discontinue Dubious Achievements, the beloved, mischievous year-end roundup of folly that has been running in the magazine since 1962. Like a blooper reel but real, Dubious was an annual assessment of all the awful things that had happened in the world during the preceding 12 months. It was pronounced dead in this month's issue of Esquire; according to a note from editor David Granger, the franchise has run its course because its descendents and imitators—available on the internet and TV "on a daily—if not instantaneous—basis" have rendered it redundant.
Mr. Hirshey, who presided over Dubious from 1985 until he left Esquire in 1997 for a career in book publishing, compared Mr. Granger's decision to "Sports Illustrated killing its swimsuit issue because you can find better tits online."
And yet, Mr. Granger is right to observe that the field has become crowded: in the 47 years since the feature debuted under Harold Hayes—the editor who made Esquire the greatest magazine of the '60s—its tone (snotty, prankish) and its format (a frisky pinch of a headline followed by a succinct summary of a regrettable news item) have been copied so much that they have become not just conventional but nearly universal.
"We've asked ourselves every year whether we should continue to do it," Mr. Granger said in an e-mail. "Dubious was an important part of Esquire. It was a great idea when it started and at some points of the magazine's life, it was one of the best things in the magazine. For more than the last ten years, it's seemed less and less necessary each year. There was more and more snark in the world and the Dubious format seemed increasingly less special. So, late last year, over lunch a bunch of us talked it over and I decided that this would be the last one."
THAT DOESN'T MEAN it's not sad seeing the original get put to bed three years shy of its 50th birthday. And while most of the guys who contributed to Dubious contacted for this story said they did not want to second guess Mr. Granger's reasoning, everyone agreed there was plenty to grieve.
Michael Solomon, who edited Dubious with Mr. Hirshey during the 90's, said one of the first items he wrote was about a Boy Scouts handbook advocating abstinence that had come out that year. The headline? "But you can still eat a Brownie now and then." Easy, funny. This is what all the best ones sounded like.
"Putting it in Esquire at that particular time, it was an extraordinary smart move," said Robert Benton, the filmmaker who, as Esquire's art director, invented Dubious Achievements with David Newman. "Nothing comes from a vacuum, and there was a kind of cynicism and irony that showed up somewhere in the early 60's. I'm not really gifted enough to tell you when it came in and why."