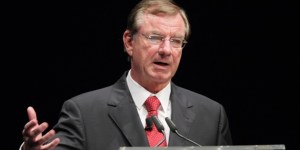 This past January, Gunter Thielen wrapped up his six year tenure as C.E.O. of Bertelsmann AG, the German corporation that owns the largest American publishing operation, Random House Inc.; today the Bookseller reports that Thielen has been named chairman of the company's supervisory board.
Bertelsmann was most recently in the news when a German magazine reported (without citing sources) that it had offered Rupert Murdoch a billion dollars for HarperCollins, the book publishing arm of News Corp. The rumor just about died when News Corp. denied it, but Bertelsmann curiously declined to comment on it one way or the other.
An interview with Thielen from April 2007 in which he discusses his legacy at Bertlesmann here.