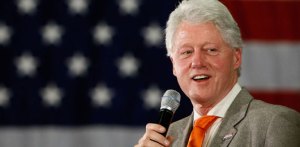 CHARLESTON, S.C.—"Half the time when she shows how tough she is, people say she's too tough," Bill Clinton said of his wife early this afternoon at a diner full of invited guests. He noted she deals with the "psychological double-bind women sometimes get caught in." He was speaking very calmly and quietly. "She has to live with the smears and the slime that people put on her every day."
"One candidate with four pollsters said she was poll-driven–she only had one," he said.
This was in the Q&A; earlier, he had been talking primarly about the economy. His opening line: "Yesterday the federal reserve announced they are cutting interest rates." He gave an excellent explanation of the subprime mortgage disaster and promised that "we will retrofit every building in the country," starting with the schools. Also cars that get 100 miles a gallon! Maybe there will be ponies!